So, you've decided to buy a used car. It's exciting to anticipate a major purchase, but it can also be a little frightening to know you could make a mistake and pay more than you need to -- or worse, bring home a vehicle in major need of expensive repairs.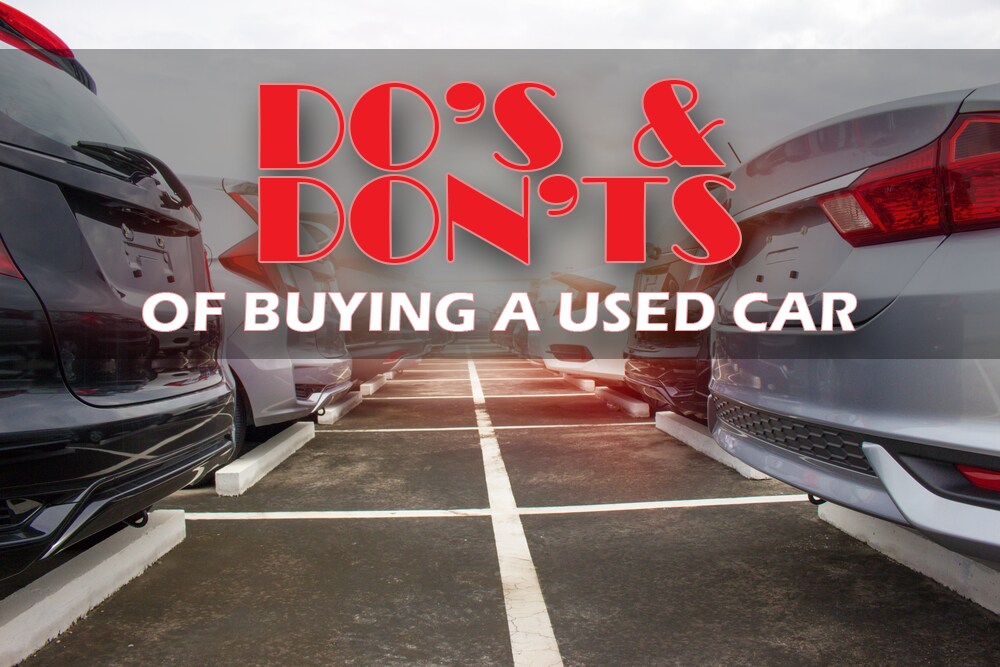 Fortunately, with a little research and some car-buying savvy, you can get a reliable and affordable used vehicle. Here are a few important dos and don'ts for purchasing the right used vehicle for you.
DO Your Own Research
Even if you're desperate for transportation, take some time to investigate the makes and models with the best reviews for reliability and performance. Sometimes models can vary from year to year, so look to see if there are particular problems reported with a specific model year. Online auto review sites can give you the rundown and may even have ballpark values that you can use when negotiating a purchase.
Both the Insurance Institute for Highway Safety and SaferCar.gov will show how specific models have performed in government-mandated safety tests, as well.
DO Get a Complete Inspection
It's imperative that you get a second opinion on any vehicle you intend to purchase. Many mechanics will perform general vehicle inspections before you place your John Hancock on any used car loan or document.
"But I'm not a mechanic!" Even if you have little experience with cars, you can look for signs that indicate an issue:
Look for dents or rust on the exterior.
Check for signs of paint overspray on wheel wells or exterior trim, which indicate recent repair work.
See if all the interior components are intact -- no cracks or missing parts.
Inspect the seat belts, as fraying or melted fibers can indicate a previous crash.
Turn on the car and look for warning lights or electrical issues, like headlights not turning on or the stereo not functioning.
Sniff for mildew or mold, especially in the trunk. Any moldy aromas may indicate the vehicle was flooded at one time.
Make sure the tires show signs of equal wear.
Under the hood, belts and hoses shouldn't look brittle and worn; there should be no major grease or rust on visible parts.
Underneath the car, make sure there are no signs of gas or oil leaks.
If you have any doubts, we definitely recommend seeking an independent inspection from a qualified mechanic--at a reasonable price, of course--or a family member who knows his or her way around an engine.
DO Take a Worthwhile Test Drive
You'll need about a half hour to get a feel for how the car drives. Used car dealerships will generally be fine with you taking all the time you need, but make sure you confirm with a private seller to make sure he or she knows what you'll be doing.
As you take your test drive, check to see that shifting is smooth, the brakes work properly, and the car doesn't pull to one side. Test every control inside to make sure everything works. Keep a mental checklist, and mark it off as you go. (Or keep an actual checklist.)
DON'T Rule Out Where You'll Buy
Some people only want to consider private sellers because they'll usually offer a better deal. Other people won't dream of shopping for a used vehicle anywhere but a reputable pre-owned car dealership. Be flexible about what you plan to do, but always take into account who you're dealing with, not just the vehicle itself. A good used car dealer near you may be a better, more trustworthy option.
If you're incredibly anxious about getting a car with mechanical problems in Miami, you may want to consider an affordable used vehicle from a top-rated dealer like Braman Hyundai. We inspect every vehicle in our inventory prior to their resale, so you'll never have to be concerned about issues. For extra peace of mind, consider a certified pre-owned Hyundai vehicle, with comprehensive warranty coverage and roadside assistance.
Read more about our Miami used car dealership, our 'Q'uintessential Personal Concierge Program, and how we serve our customers.
DON'T Decide to Put No Money Down
No matter how you're getting your auto financing -- through a bank, credit union or a used car dealership program -- you should try to put some of your own money down. This can keep your monthly payments lower and ensure you don't owe more on your car than it's worth. Make sure you at least cover any applicable taxes and fees -- don't roll those into a loan with interest – and consider getting GAP insurance by asking your auto insurance agent.
Now You're Ready to Buy a Used Car!
Remember: Buying a used car can be a great and pleasant experience! Don't let the little things prevent you from heading to a dealer you trust. You can get a safe and reliable vehicle that's right for your needs without stressing about getting ripped off—we promise.
If you're looking for a used car in Miami, head over to Braman Hyundai at 2001 NE 2nd Ave. As one of the best used car dealers in Miami, we offer a varety of used car specials, including great deals on used SUVs, sedans, minivans, and pickup trucks. Contact our sales team at (786) 623-4261 to discuss your auto financing options.
Sources:
https://www.cbsnews.com/news/used-car-buying-dos-and-donts/
https://www.thebalance.com/top-biggest-mistakes-to-avoid-when-buying-a-car-1289903
https://www.cargurus.com/Cars/articles/negotiation_101_how_to_get_a_great_deal_on_a_used_car
https://www.iihs.org/iihs/ratings
https://www.safercar.gov/Vehicle-Shoppers