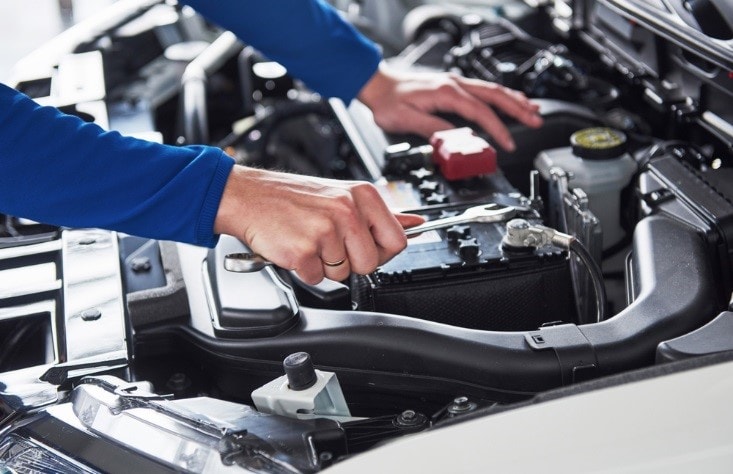 There is nothing more exciting than driving a brand-new car off the lot. But performing routine maintenance on that car is the only way to ensure it lasts for years.
We appreciate every customer that purchased a
2019 Hyundai vehicle
and hope you are enjoying it. By now, you have probably familiarized yourself with all the features and performance capabilities that Hyundai offers. You're also most likely closing in on 7,500 miles or six months of ownership. So, before that new car smell fades away,
bring your vehicle into service
for a maintenance inspection.
South Florida is Considered a "Severe Service" Area
Living in the Sunshine State means we don't get snow and have endless days of beautiful sunshine. But, it also means we need to keep our vehicles maintained on a more frequent basis. South Florida is considered a "
severe service
" area according to Hyundai maintenance guidelines.
Heavy traffic that causes extended idling is common in Miami. The constant stop-and-go driving conditions take a toll on the braking system, tires, and engine performance. Commuters have to deal with this type of traffic twice a day, causing excessive wear on the vehicle.
Hot weather can be the enemy of any vehicle. Driving for long distances on a highway in extreme heat can create all types of havoc. In southern states, car batteries have a shortened lifespan because the lead-acid doesn't stand up well to high temperatures. Batteries should be inspected every 7,500 miles.
Flat roads are common in South Florida. We don't have mountainous terrain but we do have a lot of endless roads that may require sudden stops for a variety of reasons. To be sure brakes are in proper working order, Hyundai recommends having the brake lines, hoses, and connections inspected. Disc brakes and pads should also be looked at.
Dusty roads can affect the lifetime of air and fuel filters and may need to be replaced more frequently. The suspension system will also take more abuse than in regular highway driving, so shocks and mounts should be inspected at 7,500-mile intervals.
Importance of Routine Car Maintenance
A
Hyundai maintenance schedule
is provided with all vehicle purchases from
Braman Hyundai
. This maintenance schedule can also be found in the Owner's Manual. Getting the recommended service done at the recommended intervals will help the car retain its value and hold up for years to come. For vehicle owners in South Florida, it is important to follow these guidelines:
Vehicles exposed to severe conditions should have an oil and filter change every three months or 3,000 miles, whichever comes first. Other fluids such as automatic transmission, steering, and brake must be checked at regular intervals.
The benefits of living near a beach are endless, but the amount of saltwater in the environment can lead to rusting. Keeping the car clean and free of saline residue will help alleviate problems associated with rust.
Along with our sunshine, we also get a fair amount of rain. It's essential to check the condition of windshield wipers at least every six months. This ensures that visibility will not be an issue in heavy rainfall.
Air conditioning is needed most of the year in South Florida. Be sure to have the air conditioning filter, compressor, and refrigerant checked every 7,500 miles to keep it operating at peak performance.
Essential Hyundai Maintenance at Braman Hyundai
At our Miami Hyundai dealership, we appreciate your business. To keep your vehicle in premium condition, it's important to adhere to the designated Hyundai maintenance schedule. Hyundai recommends bringing your vehicle into an authorized dealer for a thorough inspection
every 7,500 miles
. This is good time to talk with a mechanic about any issue you may be having. All systems will be thoroughly inspected, repaired, and maintained as needed.
Contact us today
to schedule an appointment, so together we can keep your car running down the road.
---
About Braman Hyundai in Miami, FL
Serving car shoppers and drivers at
2001 Northeast 2nd Ave
, Braman Hyundai offers a great assortment of
new Hyundai vehicles
and
pre-owned cars
, all at competitive prices. As a full-service Miami car dealership, we also operate a state-of-the-art
auto repair shop
and
Hyundai Parts Department
. Browse our current
service specials
, and feel free to contact our Hyundai service team at (786) 623-4261 for details.
Sources:

https://www.hyundaiusa.com/maintenance-schedule/index.aspx

https://www.bramanmiamihyundai.com/braman-miami-hyundai-service-center-miami-fl.htm

https://www.bramanmiamihyundai.com/assurance/car-care.htm

https://www.sun-sentinel.com/business/fl-xpm-2011-09-23-os-auto-scscolumn-092511-20110923-story.html

https://www.autolist.com/guides/how-long-do-car-batteries-last-in-florida

http://www.hastingsfilter.com/Literature/TSB/94-1R1.pdf