In the market for a family-friendly, budget-friendly, friend-friendly SUV with enough room for Harry Henderson and co.? Your hunt for a roomy, inexpensive, reliable crossover is shared with thousands of other Miami shoppers. But like a nice, hot cup of coffee, the cream of the crossover class always rises to the top.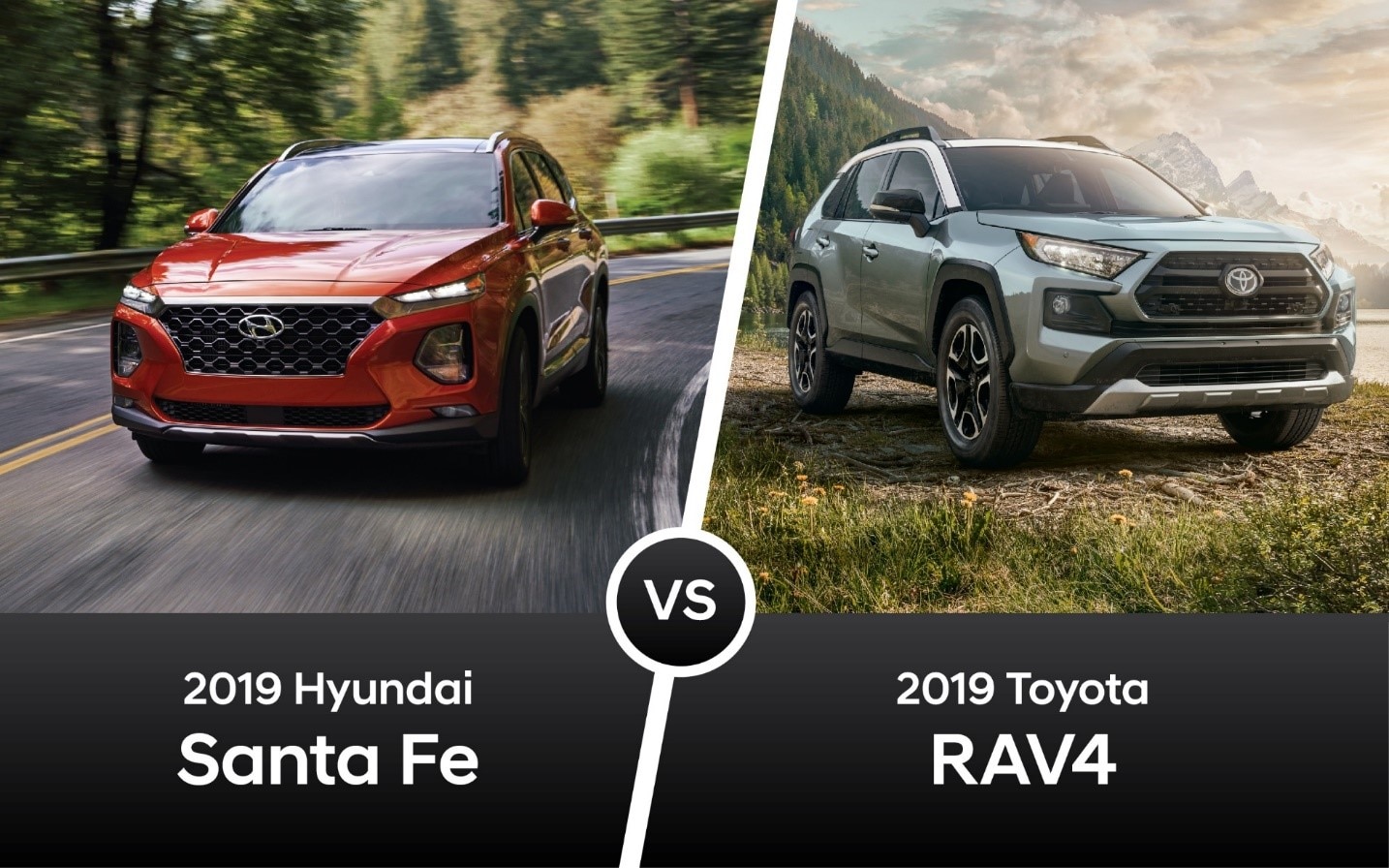 That's why you're here, reading our comparison of the 2019 Hyundai Santa Fe and its rival Toyota RAV4 – right? So, from the asphalt to the sunroof, which of these SUVs is best for your wallet, your family, and (frankly) your sanity? Let's dive in.
Santa Fe vs. RAV4: Reliability
In the midsize SUV segment, there's no more reliable vehicle than the Hyundai Santa Fe.
J.D. Power rated the Santa Fe as the most reliable and dependable crossover in its class, beating rivals like the Chevy Traverse, Ford Edge, and, of course, the compact Toyota RAV4. Hyundai's crossover received a score of 36 (out of 40)—a rating that factors in the number and severity of consumer-reported problems related to the vehicle's engine, transmission, seats, infotainment systems, features, and overall driving experience.
The experts at repairpal.com also give the nod to Hyundai's Santa Fe; both receive a score of 4.5 (out of 5), but the Santa Fe ranks higher in its respective SUV class (midsize) than the RAV4 (compact). They each have inexpensive annual repair costs (below $500 on average) and a low incidence rate of severe problems that need repair (under 10%). However, the Santa Fe outmatches the Toyota RAV4 in repair frequency, with Hyundai's SUV only needing to visit the local auto repair shop 0.3 times per year compared to RAV4's 0.5 repair rate.
U.S. News also ranks the Santa Fe above the RAV4 in their reliability tests. High safety ratings, great fuel economy, the industry's best auto warranty, and a splendid cabin secure the Santa Fe's spot at #4, which is quite a big leap from the RAV4's #22 ranking. And when you add on the Santa Fe's exclusive heads-up display and power 60/40-split rear seats, it's a no-brainer.
Santa Fe vs. RAV4: Passenger Room & Cargo Space
So, which is roomier: the 2019 Hyundai Santa Fe or the Toyota RAV4? Let's compare SUV specs.
Passenger Volume
The 2019 Hyundai Santa Fe is a bigger SUV than the '19 RAV4. The Santa Fe offers 110.7 cubic feet of passenger volume compared to the RAV4's lackluster 98.9-cubic-foot cabin. Your Miami Beach adventures just got better.
Cargo Volume
Max cargo space in the Santa Fe SUV equals 71.3 cubic feet, which is substantially more than the Toyota RAV4's 69.8 cubic feet. Behind the second row, the RAV4 ekes out the win, offering 37.6 cu. ft. vs. Hyundai's 35.9 cu. ft. of trunk space.
Interior Dimensions
Headroom (front/rear)

: The Santa Fe provides

41.2/39.2 inches

of headroom, while the Toyota RAV4 only provides 37.7/39.5 inches.

Legroom (front/rear):

Hyundai's SUV offers

44.1/40.9 inches

of legroom, compared to just 41/37.8 inches in the new RAV4.

Shoulder room (front/rear):

The Toyota RAV4 offers an adequate 57.8/56.4 inches of shoulder room, but the Santa Fe wins with its

59.1/58.3 inches

.

Hip room (front/rear):

Once again, the 2019 Santa Fe is a more spacious SUV, offering

57.5/56.3 inches

of hip room versus just 54.3/47.7 inches in the RAV4.
Exterior Dimensions:
Wheelbase:

At

108.9 inches

, the wheelbase on the Hyundai Santa Fe is greater than the RAV4 (105.9 inches).

Length:

Santa Fe's

187.8-inch

length is greater than the 180.9-inch Toyota RAV4.

Width:

Toyota's RAV4, with its 73-inch width, is slightly thinner than the Santa Fe (74.4 inches)

Height:

Surprisingly, the Toyota RAV4 is a taller SUV (67 inches) compared to the Santa Fe (66.1), especially when you factor in how much more headroom Hyundai offers.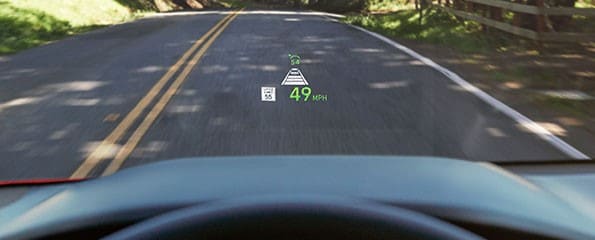 Santa Fe vs. RAV4: Price
There's no debating it: Hyundai's Santa Fe is the better SUV. Not only is it more spacious and reliable, but it also comes with a friendlier sticker price. You can get a base 2019 Hyundai Santa Fe SE for approximately $24,500, while the 2019 Toyota RAV4 LE can be had for nearly $26,000 – a $1,500 difference. At the top of the range – Santa Fe Ultimate 2.0T vs. RAV4 Limited Hybrid – Hyundai's SUV is about $1,300 cheaper.
Want a great price on the new Hyundai Santa Fe in South Florida? Head over to Braman Hyundai to find just that and then some. Our Miami car dealership offers not only ridiculous low prices and special Hyundai offers in Miami-Dade County, but we also have one of the largest inventories of new Hyundai vehicles for sale in the region.
All it takes for your perfect-SUV search to end is a scheduled test drive. Speak with our Miami Hyundai sales team at 2001 Northeast 2nd Ave, or give us a ring at (786) 623-4261 to talk shop and go over how you want to build your Santa Fe.
Sources & Photos:
jdpower.com/Cars/Ratings/dependability/2019/Midsize-SUV
toyota.com/rav4/
hyundaiusa.com/santa-fe/
repairpal.com/reliability/
cars.usnews.com/cars-trucks/most-reliable-cars-cars-that-last-forever