It's that time again. You're in the market for a used car. If it's been a while since you last bought a car, there are some new ways to buy one. You're no longer limited to a dealership or private seller. Now, the internet has turned websites into virtual used car lots that bring the car to you, like Carvana.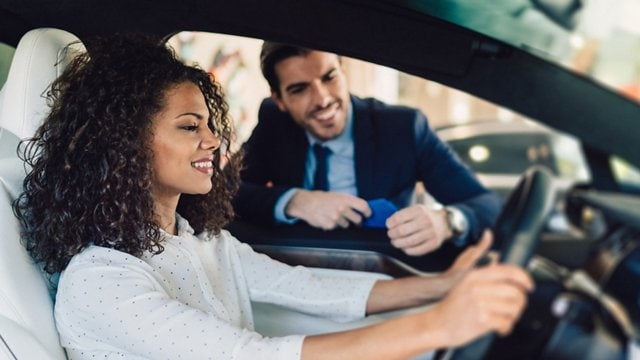 Braman Hyundai in Miami, your local Hyundai dealership, has a large selection of used Hyundai vehicles, as well as other brands. You can visit us online to check out our inventory, much like the large online car marketplaces. And now, we're even working to bring more of the buying process to your doorstep.
So, which is better, a local dealership or Carvana? Here are a few things to consider.
Gimmicks
Let's be honest. When it comes to gimmicks, Carvana has your local dealership beat. What could be more exciting than picking up your new used car from a "car vending machine?" You get a large token, put it in the slot, and then watch in awe as your used car makes it way down to you. It's a great Instagram moment.
However, when the car rolls out, you're left with a vehicle that you've never seen before and never driven that you've agreed to pay a lot of money for. Is this gimmick worth it? Not really, if you're the type that values making informed buying decisions.
Test Drives
With COVID-19 keeping many of us at home, car dealerships have found new ways to allow consumers a test drive. When you find a car in our online inventory, we can bring it to your home or office for you to take it on a test drive without exposure to others.
Every car drives a little different and has its own vibe, and this makes it essential to drive it before you buy it. With an online purchase from Carvana, you might be purchasing a car from another state without any way to test drive it first.
Shipping Costs
If you buy a used car from your local dealership, you know it's there in stock waiting for you to buy it. However, if you choose a car through Carvana, you might be out of their local delivery area and will incur a shipping fee.
Imagine if the car you want isn't sitting in Miami but on a lot in California. It's going to take a lot of work and expense to get the car to Miami. Carvana uses a third party to transport cars from one location to another and the costs range between $199 to $1,000.
Streamlined Paperwork and Returns
In the past, car dealerships have gotten a bad rep for all the paperwork. With the entry of Carvana and other companies like it, dealerships have found new ways to streamline their paperwork from online credit application to sales contract. For new cars, Hyundai even offers a three-day return period for almost any reason. We want to make sure that you're satisfied with your purchase.
Customer Service
There's nothing that can replace the personal touch. When you buy a car from a dealership, you get a dedicated salesperson who wants to make the experience as convenient for you as possible. You can easily call up with any questions.
However, with a purchase from an online-exclusive retailer, you aren't usually offered a main point of contact to help you navigate the process and provide you with answers when you have questions. You lose the benefit of meeting with a real, live person and working directly with them throughout the car buying journey.
When it comes to a dealership vs. Carvana, the dealership is always going to be your best option…particularly when it's a Hyundai dealership offering Shopper Assurance, like Braman Hyundai. The ability to test drive a new or used car prior to purchase, avoid shipping costs, and receive expert customer service from a dedicated representative are just a few of the reasons why. Shop online now or contact Braman Hyundai to learn more about free vehicle delivery in Miami.