Family SUVs, once overgrown and inefficient, have made a push toward "leaner and meaner" since fuel prices jumped and the economy tanked over a decade ago. Finding more creative ways to put the "Utility" in SUV has become the name of the game. Leading this revolution from the front lines are the upstart Hyundai Palisade and the classic Honda Pilot. You can't discuss the top midsize SUVs without mentioning these two. We pited them head-to-head to find out which 3-Row SUV tops the charts.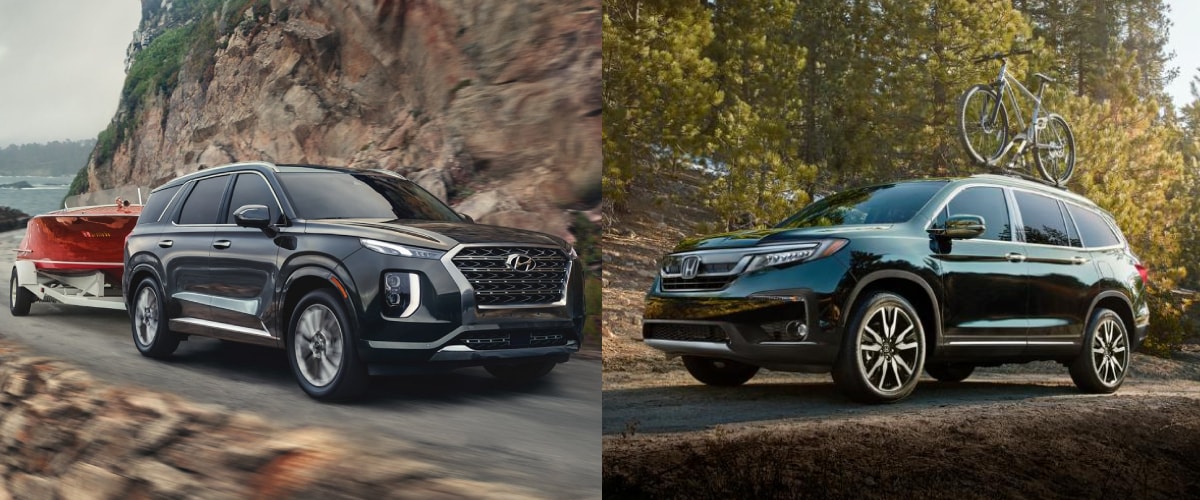 At First Glance
If comparing the features you need in a new SUV has led you to these two, you could do much worse in terms of appearance. Either way, you will be driving an attractive vehicle.
The 2020 Honda Pilot comes from a long ancestry of conservative looks. The Pilot has a certain eye-catching simplicity about it, but it is now four years removed from its last major design update, so it's starting to appear a bit dated.
The Palisade is at the opposite end of this spectrum, as a highly regarded, all-new model for 2020. It's overall look is strikingly unique, vibrant, and adventurous. Expect it to turn heads thanks to its vertical headlamps and imposing grille.
Creature Comforts
Both the Pilot and Palisade leave very little to chance when it comes to interior design. Their cabins have been beautifully crafted to ensure both comfort and practicality.
The Pilot's base model comes with its fair share of standard equipment for the seven people it seats. These include tri-zone climate control and a seven-speaker audio system. Its base infotainment system makes do with a 5-inch touch screen.
The Palisade also has a lot to offer for its 8 occupants spread over three rows, and offers more in terms of standard features. It boasts standard climate control, Android Auto™ and Apple CarPlay®. Its infotainment system boasts an 8-inch touch screen.
Price and Trims
The Pilot has the lowest entry-level MSRP, with the LX with front-wheel drive starting at $31,650. However, higher end trims cost more than comparable Palisades. Other Pilot trims are the EX, EXL, EXL RES, Touring,and Elite, leading up to the range-topping Black Edition that starts at $49,720.
The Palisade starts at $31,975 for the SE version with front-wheel drive, and packs its variety of tech and features into just three trim levels. Other Palisade trims are the SE and the Limited, which starts at just $45,125. Mid-level trims tend to offer more features than comparable Pilots at similar cost.
Engine and Performance
Both the Palisade and Pilot come with potent V6 engines mated to automatic transmissions. They both start with front-wheel drive and offer all-wheel drive at an additional cost (+$1,700 for the Palisade, +$2,000 for the Pilot).
The Pilot comes with a swift 3.5-liter V6 engine that promises 280 hp and 262 lb-ft of torque mated to a base 6-speed automatic that is upgrades to a 9-speed in higher trim levels.
The Palisade edges the Honda in power, as its 3.8 liter V6 offers a whopping 291 hp and matches the Pilot's 262 lb-ft of torque. All this power is mated to a smooth-shifting, responsive 8-speed automatic transmission.
Safety
Both the Pilot and Palisade were built with safety in mind.
The Pilot comes standard with its Honda Sensing safety package, which includes collision detection, automatic braking, automatic high beams, tire pressure monitoring systems, and adaptive cruise control.
The Palisade offers a comparable list of intelligent safety features, including a tire pressure monitoring system, forward collision avoidance assist, lane-keeping, track aids, driver attention warning, and rear parking sensors.
Our Verdict
Both the Palisade and Pilot are ultra-capable SUVs, but we have to agree with KBB.com, who recommends the 2020 Hyundai Palisade "for its cost and value, as well as its thoughtful interior layout." We'll also mention superior power, more aggressive styling, cutting-edge technology, and 5-star comfort that tip the scales in favor of the Palisade, not to mention America's Best Warranty.
To find your Palisade, shop online or visit our Hyundai dealership in Miami to schedule a test drive. You can also contact us and we'll gladly bring a Palisade or any Hyundai vehicle to your home or business for an even more convenient way to test drive.
Sources
https://www.cargurus.com/Cars/compare/Honda-Pilot-vs-Hyundai-Palisade_d594_d2836
https://www.auto123.com/en/car-reviews/comparison-2020-honda-pilot-vs-2020-hyundai-palisade/66762/
https://www.thecarconnection.com/news/1123809_2019-honda-pilot-vs-2020-hyundai-palisade-compare-crossovers
https://www.kbb.com/articles/comparison/honda-pilot-vs-hyundai-palisade-comparison/
https://www.motorbiscuit.com/honda-pilot-vs-hyundai-palisade/