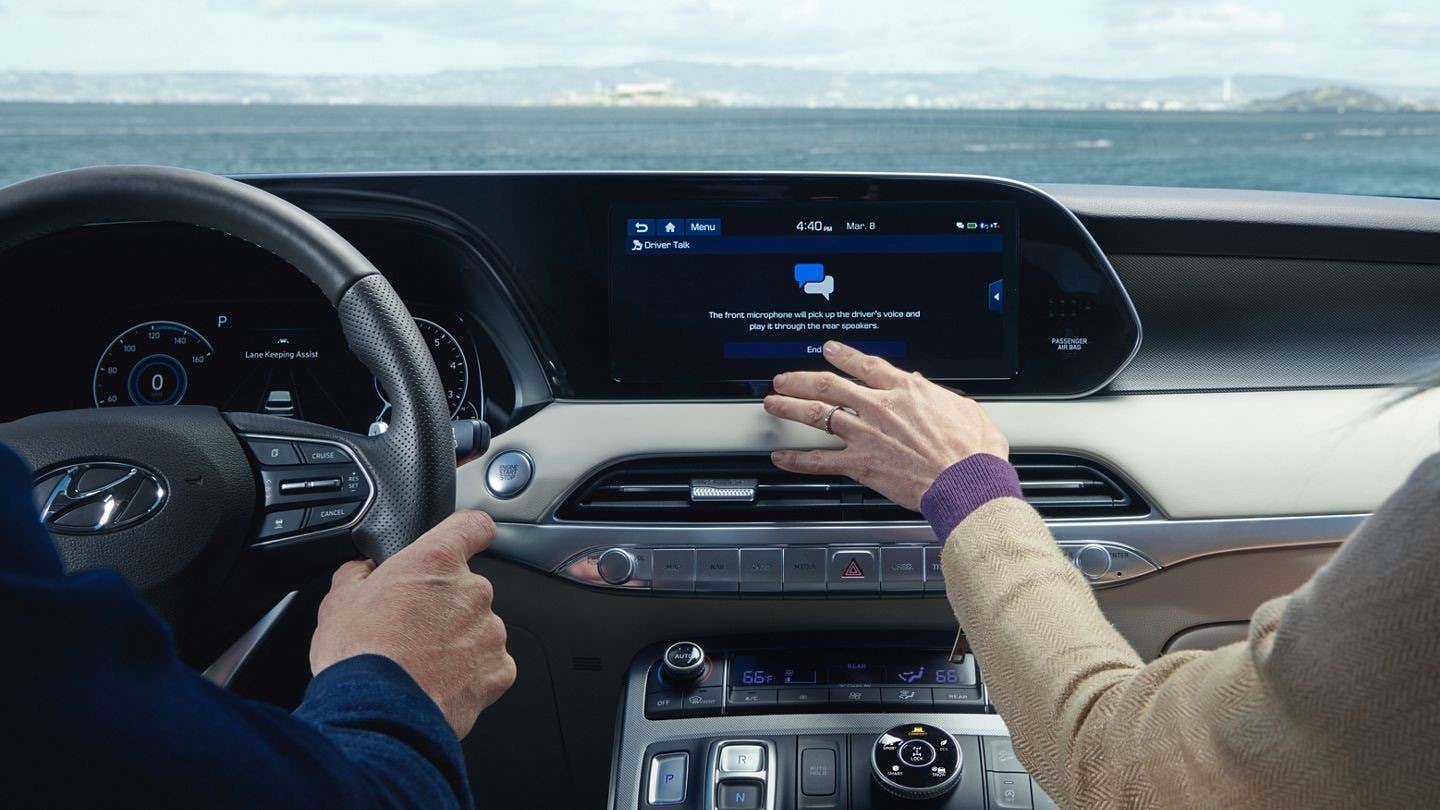 For those who value a vehicle's tech, "infotainment" is an important consideration. Each automaker has a unique take on the infotainment system used in their vehicles. They strive to craft the best system they can to increase the value of their brand and to provide the user with a quality experience.
Since the age of the infotainment system in vehicles is still fairly new, it's important to point out that each system has its pros and cons. The best infotainment systems assist and entertain drivers while also allowing users to keep their attention focused on the road, where it belongs.
So, which infotainment system and software get an A+ grade? Here's why Hyundai Blue Link is our favorite, and could very well be yours.
The Top Vehicle Infotainment Systems
Hyundai Blue Link
The Hyundai infotainment system masters the basics and more. Hyundai Blue Link system has a practical menu layout, quick processors, and easy-to-use analog controls as a backup. Hyundai Blue Link offers complimentary car service for three years.
Higher trim levels of Hyundai vehicles offer 7.0 or 8.0-inch touchscreens, which come available with Apple CarPlay, Android Auto, satellite radio and Amazon Alexa. The system can read out text messages and there's optional navigation. It also integrates with Pandora radio.
Chevrolet MyLink
Using the same basic setup as the IntelliLink systems from General Motors cousins Buick and GMC, MyLink features big text and icons with no menus. MyLink has a redundant home button and there's a Bluetooth glitch that causes the link between the system and your smartphone to drop sporadically.
Unlike Blue Link, Chevy MyLink doesn't yet come with Amazon Alexa compatibility.
Ford Sync 3
Ford's Sync 3 is an improvement over the old MyFord Touch systems used before. But there are still problems.
The good news? Sync 3 offers intuitive menus, responsive touchscreens, and a decent voice-command system. Ford is adding Apple CarPlay, Android Auto, and Wi-Fi hotspots across the board with Amazon Alexa compatibility to be added for select vehicles.
The bad news? The interface isn't all that appealing and updates aren't always easy to execute. The system seems to favor the iPhone over Android; some Android users have complained that it took some time to get Android Auto to work and then enable popular app Waze.
Honda Infotainment
All Honda models have a standard infotainment system with either a 7.0- or 8.0-inch display. The system features USB connectivity and Bluetooth across the board, and you get Apple CarPlay and Android Auto capability with the 8.0-inch touchscreen.
While the system seems quick and easy to use, class-action lawsuits were brought against Honda because it is alleged that certain malfunctions can pose safety risks to drivers distracted by a frozen screen.
NissanConnect
The infotainment system Nissan developed, NissanConnect, features a standard 8.0-inch touchscreen and has a main menu that you can customize. It also has Apple CarPlay and Android Auto capability. There are knobs for tuning and volume, but it's pretty basic. It offers onboard navigation and an option to upgrade to include a dealer-installed 4G LTE hotspot.
But there's one big problem: The NissanConnect app doesn't work well. The app on Google Play has a rating of 2 stars as of March 2020, and many of the lower ratings are given because of reviews saying the app works only sporadically.
Who Does It Better?
While all the car infotainment systems we've covered are capable and offer good features, Hyundai's Blue Link is a cut above the rest. The Hyundai Blue Link infotainment system is fast, easy to use and simple to navigate.
The added benefit of the three years of Hyundai Blue Link service adds so many additional features that you'll find very helpful. The system combined with the services gives you remote access to control the interior climate of the vehicle and to lock and unlock the door. The system will even help you remotely find the vehicle if you've misplaced it in a crowded parking lot.
There's a destination search feature to help you find your way. There's also a full vehicle diagnostic check that you can run from the infotainment system. You're alerted if an issue is found and with the touch of the Service Link button, you can schedule service at your preferred dealer then and there.
Want to Know More?
Looking to lease or buy a new Hyundai? Stop by our Miami Hyundai dealership today, and we'll put you behind the wheel of a Sonata or Santa Fe for a test drive. We'll also walk you through the Hyundai Blue Link system to help you connect your phone, activate Bluetooth, and more. Call Braman Hyundai at (786) 623-4261 to schedule an appointment or learn more about our Hyundai lease offers in South Florida.