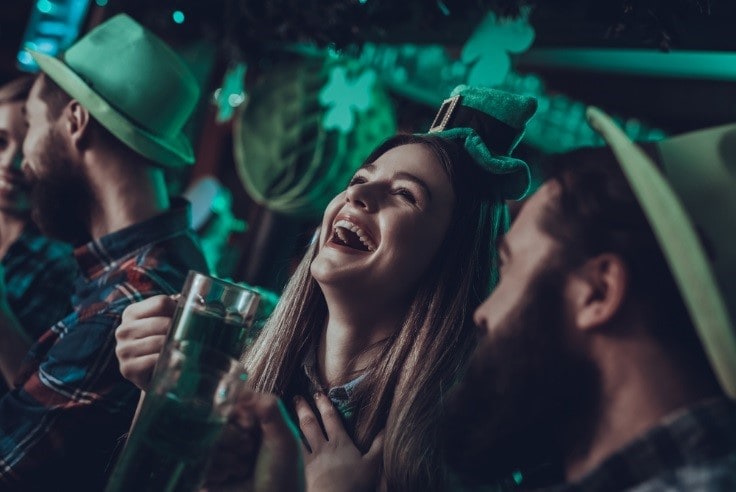 Ready to get in the St. Patty's Day spirit with some spirits? Release your inner leprechaun, dress in green, and embrace Miami's best events, bars, and food this St. Patrick Day! Enjoy the celebrations but drink responsibly. (Oh, and heap praise and plenty of free non-alcoholic drinks on your designated driver -- they deserve it.)
Here are some of our favorite things you can do during St. Patrick's Day this year:
St. Patty's Day Events in South Florida
Brickell's 5th Annual St. Patrick's Bar Crawl
Your Brickell's St. Patrick's Bar Crawl ticket entitles you to one free drink at each of the five participating bars, which also offer drink specials in honor of the day. Go early enough and you could also land some cool St. Patrick's Day swag while it lasts!
When:
Check-in time is from 6 PM-9 PM on Saturday, March 14th and Tuesday, March 17th, 2020. Free drinks and drink specials are only available until midnight each night.
Where:
Check-in takes place at Blackbird Ordinary, 729 SW 1st Ave. in Miami.
Specifics:
Participating bars are Blackbird Ordinary (of course!), American Social, Batch Gastropub, Baru LatinBar, and RedBar Brickell. All five venues are within easy walking distance from each other.
Cost:
$15 -$20 per person for each night of the crawl, depending on whether you want to choose your own free drink or take what's offered.
St. Pat's Wynwood
Join the St. Pat's Wynwood block party for great food, music, shopping, and partying!
When:
The party lasts from 3 PM on Tuesday, March 17th until 3 AM, Wednesday the 18th.
Where:
The Wynwood Marketplace at 2250 NW 2nd Ave, Miami.
Specifics:
The event is open to all ages but only those 21 years or older can drink alcohol. The event will feature food trucks, live music, an artisan market, and plenty of green beer. The first 500 people to RSVP get a free beer and a shot!
Cost:
The event is free to attend. Purchasing a party pack costs $17 - $25 depending on whether you want 1 or 2 sets of LED sticks, hats, and shots.
It's Always St. Pat's Day at These Irish Pubs
Finnegan's Road
If you'd rather avoid the tourists and enjoy an Irish atmosphere with a local flair, check out Finnegan's Road. Even with its relaxed atmosphere, we can't guarantee your brew won't arrive dyed green. After all, this is an Irish bar!
Highlights:
This sports bar features more than 30 TVs so you can always catch a game with your brew.
Address:
942 Lincoln Rd, Miami Beach.
Little Hoolie's Sports Bar & Grill
This is another Irish sports bar with a casual, friendly atmosphere. Since they host different specials every day of the week, they're sure to have a surprise in store for St. Patrick's Day!
Highlights:
Enjoy a late-night snack (with or without a drink) from the Little Hoolie's kitchen. It's open every night until 4 AM!
Address:
9559 South Dixie Hwy, Miami.
Where to Eat on St. Patrick's Day
It's important to balance alcohol with food in order to avoid its more deleterious side effects. Try these eateries during your exploration of all things Irish.
Mickey Byrnes
This self-described "brilliant Irish pub" is also a sports bar and an excellent place to grab a bite of traditional Irish pub fare like bangers and mash, fish & chips, or shepherd's pie.
Address:
1921 Hollywood Blvd, Hollywood.
The Butcher Shop MIA
The Butcher Shop MIA is the perfect more upscale place to meet up with friends, end your celebratory evening, or just take a break in the middle! Nourish those hungry pub-crawling muscles with a thick certified prime black Angus steak washed down with a glass of their Guinness Extra Stout. You may want to dress for the occasion but don't leave your green at the door It's still St. Pat's Day, after all!
Addresses:
165 Northwest 23rd Street in Miami and 209 6th Street in West Palm Beach.
So, get out there and enjoy St. Paddy's Day. Everyone at our Miami Hyundai dealership hopes you have fun – just remember to drink responsibly and never get behind the wheel after partying. If you need a designated driver you can trust, you should look into AAA's Tow to Go service. AAA provides intoxicated drivers with free, safe rides on St. Patrick's Day and other "party" holidays.