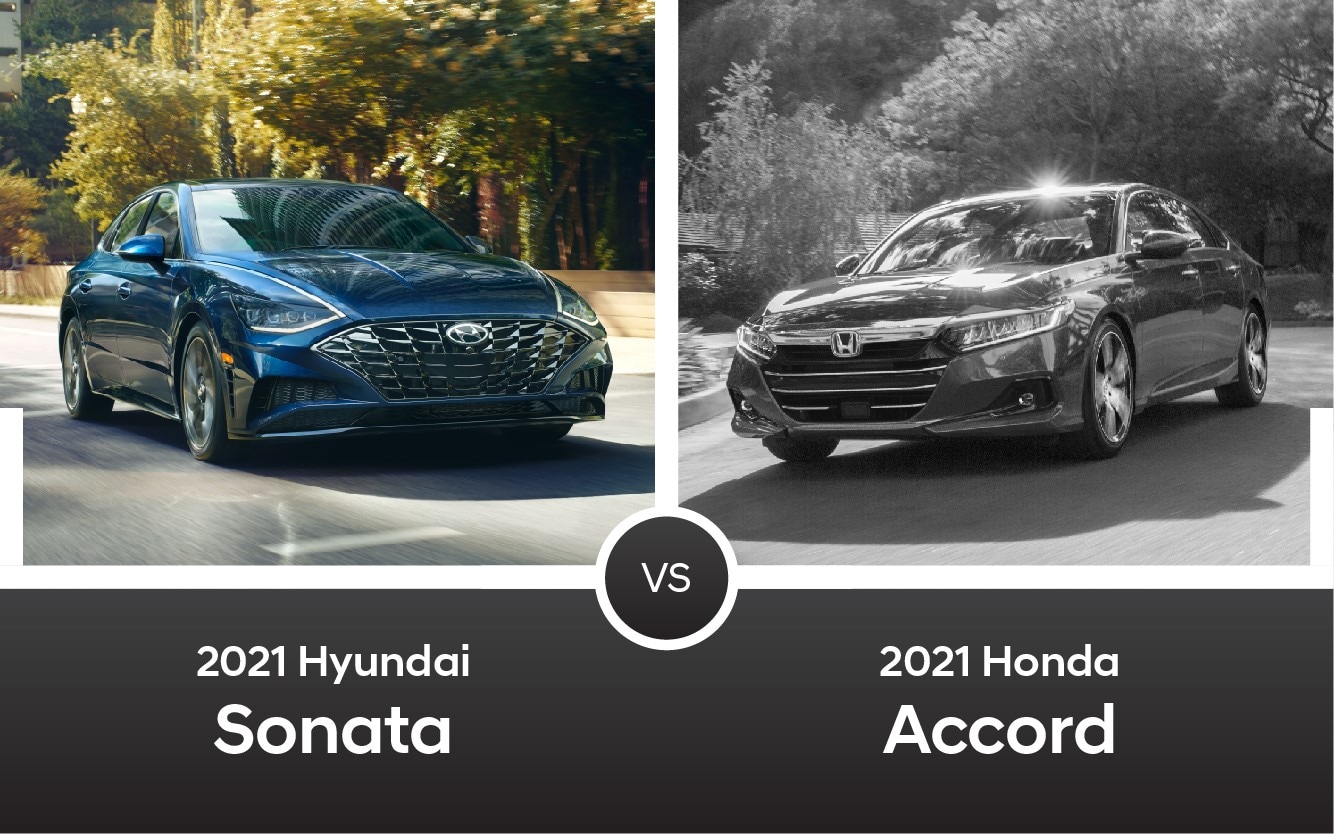 Even though SUVs and trucks are grabbing more market share these days, four-door sedans continue to be a popular choice for buyers. Two of the very best sedans in this competitive category are the
2021 Hyundai Sonata
and the 2021 Honda Accord.
While it's true that the Accord has been a solid choice among car shoppers for many years, the new 2021 Sonata is pulling ahead of Honda's flagship four-door by offering rock-solid quality, lively performance, perfect handling, excellent fuel economy, and a superior list of tech and features.
So, let us count just some of the many ways that the 2021 Hyundai Sonata beats the Honda Accord.
1. Sonata: 2021 Motor Trend Car of the Year Finalist
Winning Motor Trend's coveted "Golden Calipers" is the automotive equivalent of winning an Oscar for Best Picture. This year, the redesigned Hyundai Sonata was a top 2021 COTY finalist, competing against European luxury vehicles like the Mercedes CLA-Class, the BMW 8 Series Gran Coupe, the Porsche Taycan, and the Mercedes E-Class.
The Accord? Well, it wasn't even a contender this year. Sad.
What did Motor Trend judges have to say about the new Hyundai Sonata? Among other things:
"A well-packaged interior means there's plenty of space inside despite the sloping roofline. Even average-sized adults will be comfortable in the rear seats. Hyundai continues to lead in the infotainment department with easy-to-use systems, responsive displays, and clear graphics. Even with the addition of an available large main touchscreen and digital gauge cluster, the Sonata's infotainment system remains one of the simplest to learn."
We agree. You will, too.
2. Sonata Leaps Ahead with Bold New Styling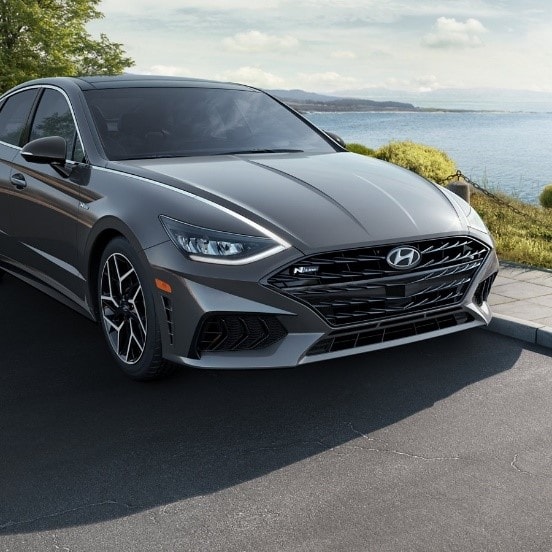 Completely redesigned last year, the 2021 Sonata's curvaceous exterior carries over largely unchanged from the 2020 model. Its fresh styling is more like a trendy hipster ready for a night on the town, while the sedate 2021 Accord is more like a buttoned-down businessperson in a three-piece suit waiting for their Zoom call to start.
The new Sonata's design highlights include a dramatic new "Aston-Martin-style" front grille, headlights accented by eye-catching boomerang LED running lights, a sleek, aerodynamic silhouette, and a swooping rear end that features a large rear window and wrap-around taillights connected by a thin red LED band stretching across the Sonata's rear flanks. The overall effect is lithe, agile, luxurious, and sporty.
"The exterior style causes double-takes, and many people we talked to during our test assumed the Sonata was a luxury car," says Ryan ZumMallen of Edmunds.com. "It's distinct on the road and in a crowded parking lot, but not in an ostentatious way. Big credit to Hyundai for making a family sedan that stands out."
3. Impressive Sonata Interior Sets a New Luxury Standard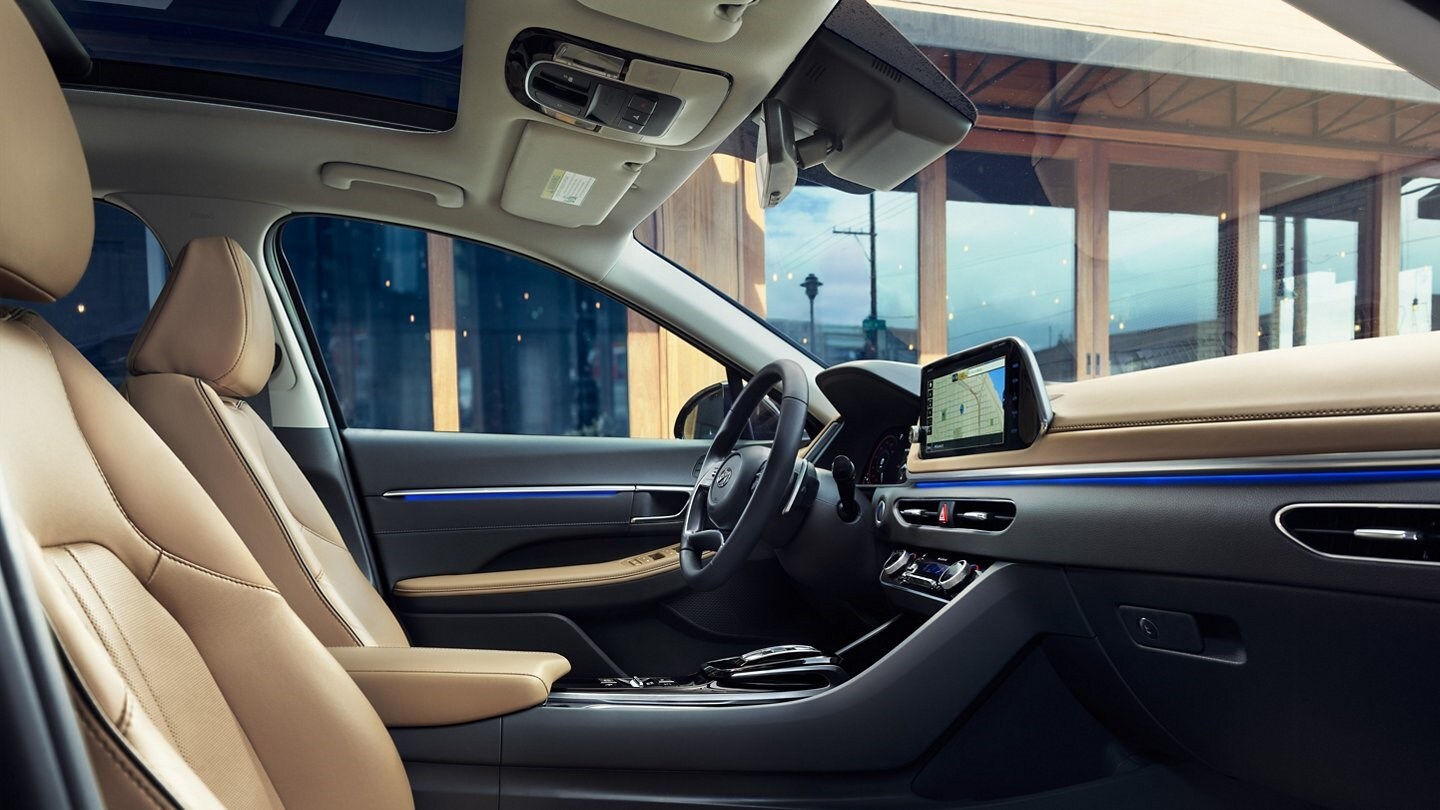 The Accord's interior plays it safe by being conservatively comfortable and all too predictable. In contrast, the 2021 Sonata demonstrates what a modern mid-size family four-door sedan's interior should be. Get behind the wheel of the Sonata and you'll be immediately impressed by its luxurious and spacious cabin. The Sonata's roomy interior gets high marks for superior fit and finish, quality materials, ergonomic design, and upscale appointments that make you feel as if you're driving a pricey European luxury car.
TheCarConnection.com's Editorial Director Martin Padgett
says this:
"With its graceful new interior, the Sonata has banished drab to other brands. The Sonata's cabin comforts and cossets like a luxury car. Hyundai compiles a certain lightness from very slim air vents and climate controls and flanks that on Limiteds with twin digital displays with explosive graphics that indicate changes in drive modes. The wing-like dash blends upgraded materials on Limiteds to a luxury-car effect and the car's piano-key climate switches make perfect sense…the quilted seats in the Limited are just one moment of peripheral beauty in a cabin that bristles with them."
Plus, the Sonata's roomy interior offers more front and rear headroom, and more front legroom than the Accord.
| | | |
| --- | --- | --- |
| | 2021 Hyundai Sonata SE | 2021 Honda Accord LX |
| Front headroom | 40 inches | 39.5 inches |
| Rear headroom | 38.4 inches | 37.3 inches |
| Front legroom | 46.1 inches | 42.3 inches |
4. Sonata Gets a Major Tech Upgrade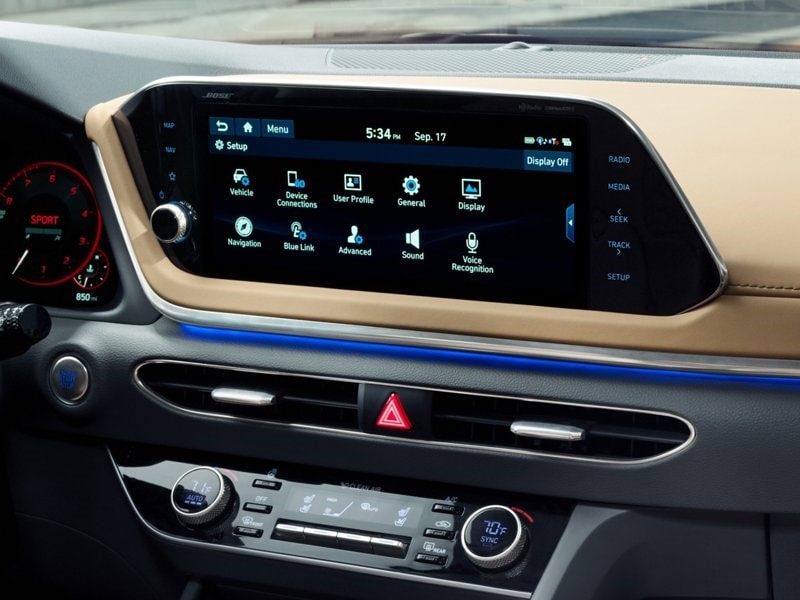 Both the Accord and Sonata offer an array of modern technology and infotainment features and functions you've come to expect, such as 8.0-inch touchscreen displays, Bluetooth®, and Android Auto™, and Apple CarPlay® integration.
But you get a serious tech upgrade with the Sonata Limited compared to the Accord's top-end Touring model. The Accord Touring continues to offer the same standard 8.0-inch touchscreen display you'll find in lower trim levels, while the Sonata Limited features a much larger 10.25-inch touchscreen display. You'll also get a huge 12.3-inch, fully digital gauge cluster. You won't find that on the Accord in any trim level.
Additionally, Hyundai's class-exclusive, available, smartphone-enabled Digital Key lets you open the door with just your hand and without fumbling for a key fob. You won't find that on the Accord either.
"Hyundai did an incredible job with the new Sonata," says
Joel Patel, Automotive Editor of CarsDirect.com
. "Not only does it have one of the more dashing designs for the class, but it's also packed with high-tech features that few rivals can match."
5. Sonata vs. Accord: MSRP
When it comes to how much you'll spend on a comparably equipped new Sonata versus a new Accord, you'll be pleasantly surprised with Hyundai's sticker price. With a starting MSRP of just $23,700, the 2021 Sonata SE costs $1,270 less than the comparably equipped 2021 Accord LX. Cha-ching!
6. N-Line Race-Bred Performance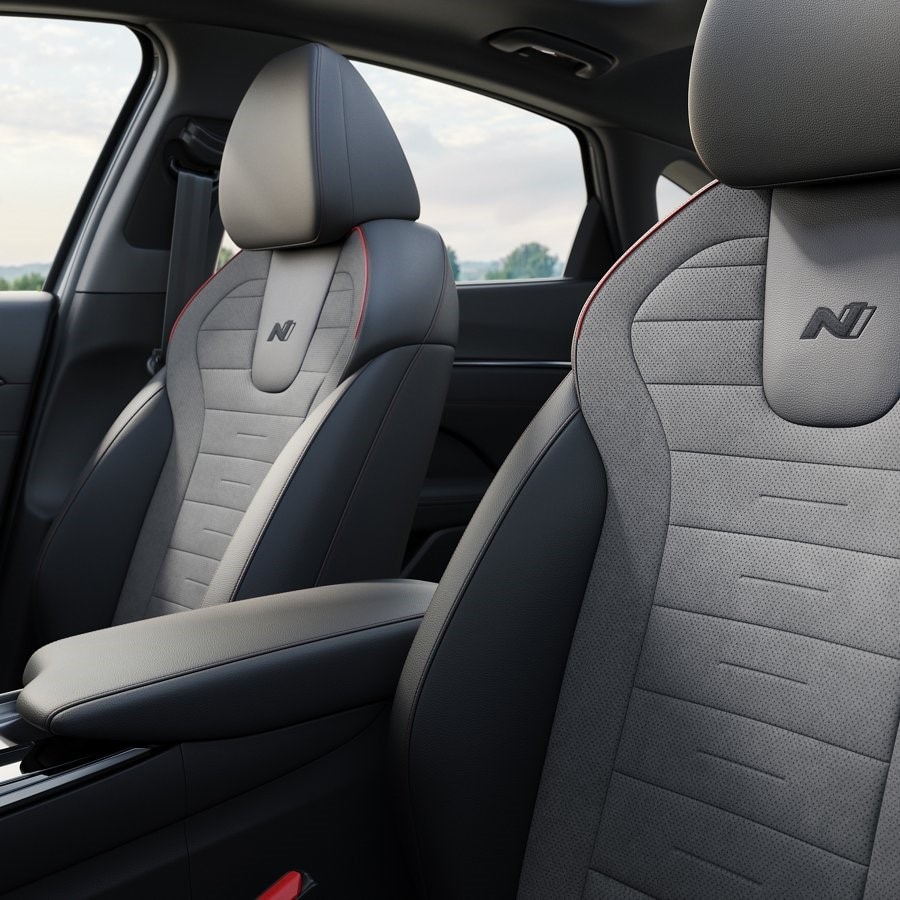 There was a time when the Accord Sport 2.0T was considered one of the hottest four-door sedans out there. But not anymore. The scorching new N-Line Sonata is quickly putting the Accord and other competitors in its rear-view mirror. It offers a new level of pulse-quickening performance and handling that's getting rave reviews from automotive pundits and consumers alike.
The N-Line Sonata gets its punch from a powerful and incredibly responsive 290-hp 2.5-liter turbocharged 4-cylinder engine that also powers the upmarket Genesis G80 and GV80 luxury automobiles.
"The big news for 2021 is a new range-topping performance trim," states Edmunds.com's Ryan ZumMallen. "The Hyundai Sonata N Line is oriented toward buyers who want a family-friendly sedan with an edge. Power for the N Line comes from an all-new turbocharged 2.5-liter four-cylinder engine that cranks out 290 horsepower and 311 lb.-ft of torque. This is one of the more powerful upgrade engines you'll find in a midsize sedan."
"With newfound power and torque, this Sonata slings to 60 mph in just 5.3 seconds," says
MotorTrend.com's Duncan Brady.
"[This ties] the discontinued Ford Fusion Sport for the quickest non-luxury midsize sedan we've tested."
7. America's Best Warranty
Hyundai automobiles are built to last. That's why Hyundai offers its unbeatable America's Best Warranty standard on every Hyundai. With it, you get a 5-year/60,000-mile Limited Warranty, a 10-year/100,000-mile Limited Powertrain Warranty, and five years of 24-hour roadside assistance with unlimited mileage.
Compare these impressive numbers to Honda's coverage, which only offers a 3-year/36,000 Limited Warranty, a 5-year/60,000-mile Limited Powertrain Warranty, and just a 3-years/36,000-miles of roadside assistance.
| | | |
| --- | --- | --- |
| | 2021 Hyundai Sonata | 2021 Honda Accord |
| Limited Warranty | 5-year/60,000-mile | 3 year/36,000-mile |
| Limited Powertrain Warranty | 10-year/100,000-mile | 5-year/60,000-mile |
| 24-Hour Roadside Assistance | 5 years/unlimited mileage | 3 years/36,000 miles |
Discover the Award-Winning 2021 Hyundai Sonata at Braman Hyundai Miami
When it comes to many reasons why the bold, exciting, and redesigned 2021 Hyundai Sonata for sale in South Florida beats the Honda Accord, we've just scratched the surface. Discover why this finalist for Motor Trend's prestigious Car of the Year Award simply blows the doors off the competition with its European-inspired styling, race-bred performance, spacious and sporty interior, and a long list of standard features.
Check out our huge inventory of new 2021 Hyundai vehicles in Miami. Let us show you how easy it is to lease or own a new Sonata at Braman Hyundai Miami by getting pre-approved for a car loan in Miami online.
Contact us today at 786-623-6062 or visit our Miami Hyundai dealership at 2001 Northeast 2nd Ave in Miami, FL.