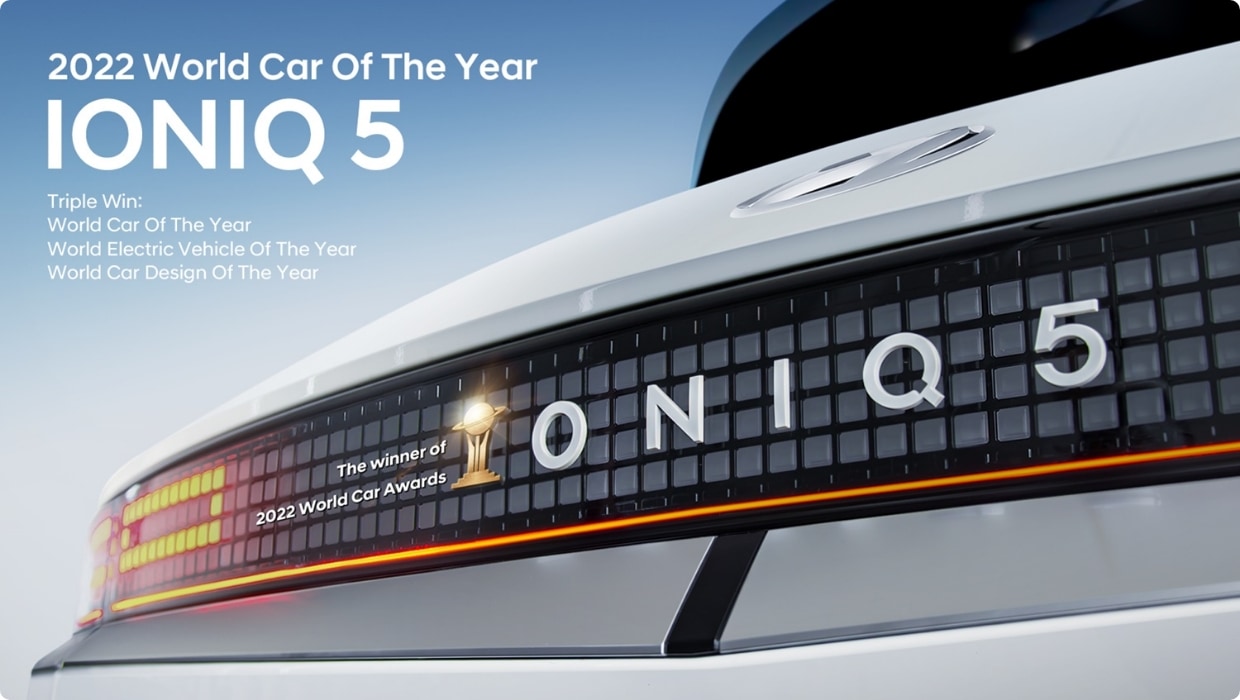 The best EV you can buy right now isn't made in Fremont, nor does it come off the assembly line in Detroit, China or Germany. Today, the best electric vehicle on the market is built and shipped out by Hyundai, Seoul's premier automaker.
Of course, we're talking about none other than the first-ever, all-new 2022 Hyundai IONIQ 5.
Is the IONIQ 5 really top dog in the EV segment? If we determine success by wins and losses—something we definitely do in America—then the answer is a resounding "yes." Just look at all the awards and accolades the 2022 IONIQ 5 has already scooped into its electrified mouth:
World Electric Vehicle of the Year
World Car Design of the Year
Company Car Premium EV of the Year
No other electric SUV is as well-respected and praised as the IONIQ 5. Period. End of story. Finito.
Top 5 Reasons to Buy an IONIQ 5
Ok, maybe it's not a full
finito
. If you're looking for an EV to buy – which we assume is the case since you're still reading this – and not fully convinced that Hyundai's electric SUV is the best EV, here are some very good reasons why the 2022 IONIQ 5 should be at the tippity top of your list.
1. Charging is Really, Really, Really Fast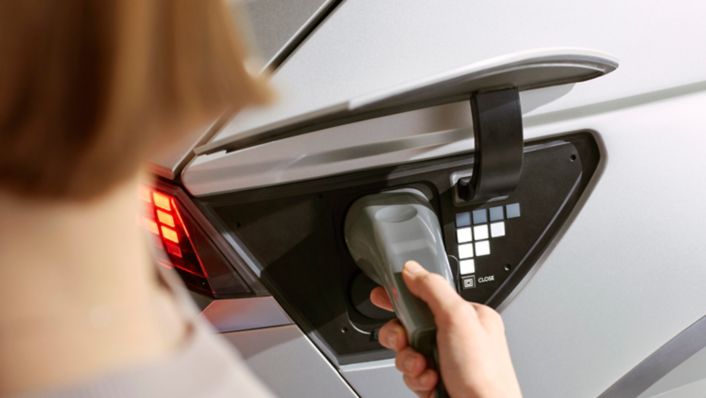 Some people might be put off by things like "driving range" and "charge time." But the (charge) times, they are a-changin', and
electric vehicles are undoubtedly worth it
in the grand scheme of things – especially if that EV is an IONIQ 5.
With a driving range of 303 miles, the IONIQ 5 is more than adequate to be your daily driver. Other electric SUVs may net a handful more MPGe overall, but that's not what really matters. The time it takes for you to charge your EV is where it's at, and the IONIQ 5 blows all other electric crossovers out of the water.
Built on Hyundai's innovative e-GMP platform, IONIQ 5 is engineered to keep you movin'. When connected to an 800V EV charger, Hyundai's little do-gooder does good on its promise of delivering the fastest charging times in the segment. Just 5 minutes equates to 68 miles of range, which is twice as fast as the ID.4 and double the miles of the Mach-E. If you've got 18 minutes to spare, you can energize your battery from 10% to 80%.
How does it do when connected to an EV home charger? Its standard 10.9kW on-board Level 2 charger hooks up to a 240V AC outlet and can boost a 10% battery to 100% in under 7 hours (6 hours and 43 minutes, to be precise). The ID.4 needs up to 11.5 hours, and the Mach-E requires 11 to 15 hours to go from 0% to 100%.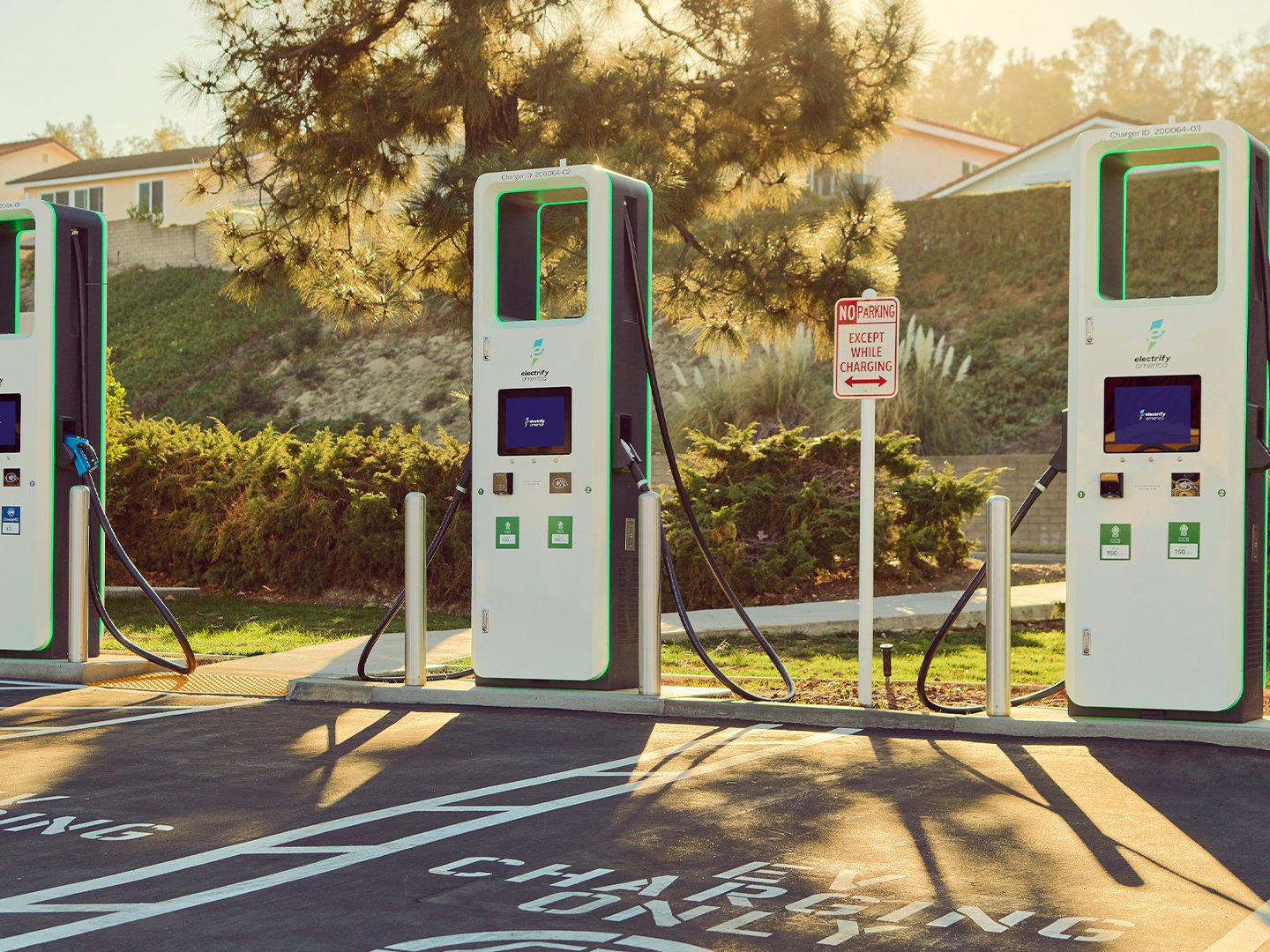 Best of all, when you buy or lease a new Hyundai IONIQ 5 near you, you'll receive 2 years of free public charger access. This includes unlimited 30-minute charging sessions at any eligible EV charger station in the country. Who doesn't love a freebie?

2. Vehicle-to-Load (V2L)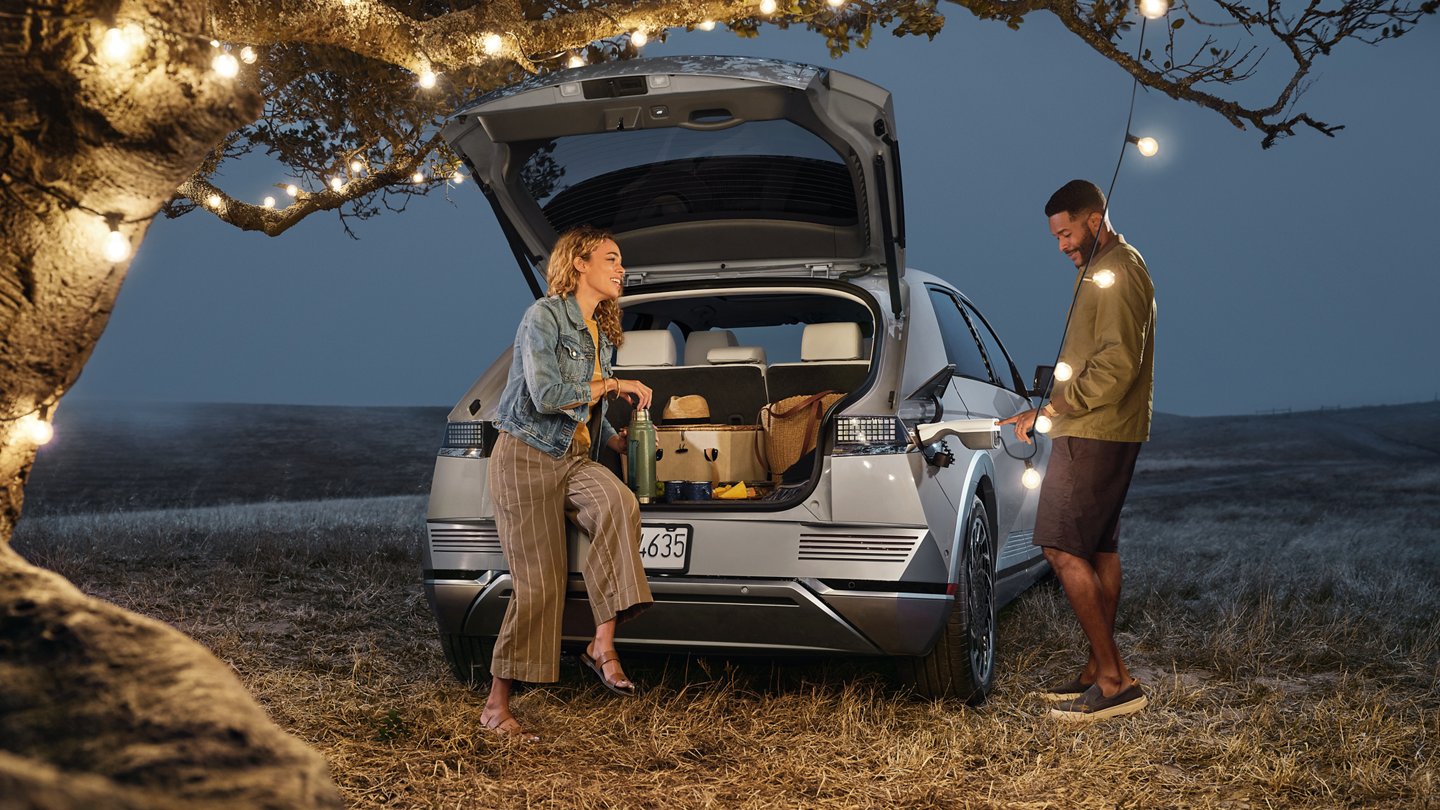 Don't you hate it when you're camping and unknowingly let a raccoon walk under your chair, steal your thingy of cookies, and run off into the woods? If your campsite has some lights, maybe you would have seen that rascal before he thieved you right and proper.
Enter: Hyundai's Vehicle-to-Load, or V2L. Using your IONIQ 5's 120V charging port, you can power up string lights, charge tablets or phones, plug in a TV when tailgating, or even charge another electric vehicle in an emergency. The IONIQ 5 won't outright stop trash pandas from being trash pandas, but at least you'll get to watch them do you dirty.
3. More Space than the Mach-E or ID.4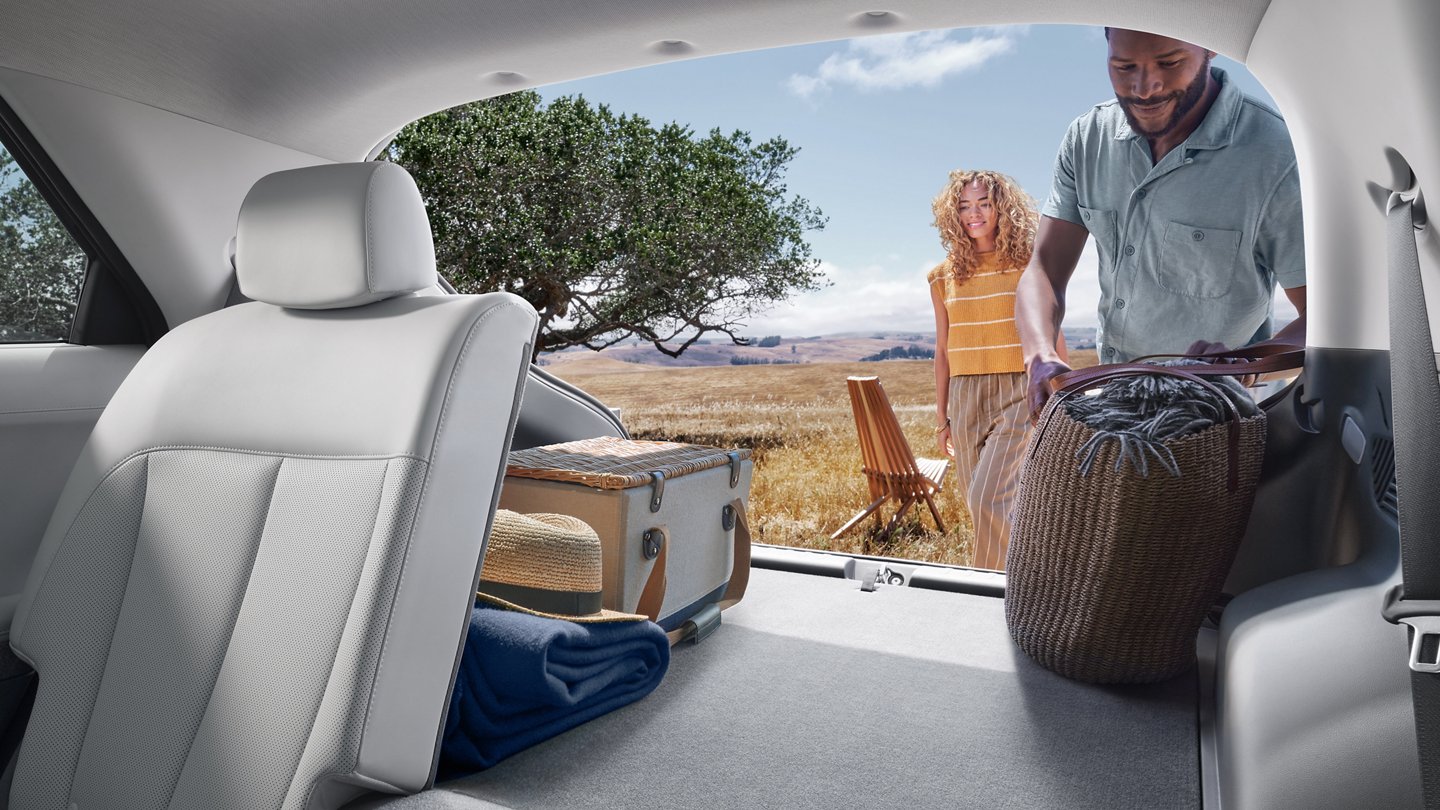 The IONIQ 5 is friendlier to your friends. By that, we mean that it's more spacious than rival EVs like the ID.4 and Mach-E. Passenger volume in the IONIQ 5 is 106.5 cubic feet. The Volkswagen ID.4 only grants you 99.9 cubic feet for passengers, while the Ford Mach-E offers 101.1 cubic feet of space. Cargo volume, including "frunk" space, is on par with rivals, too.
4. Tech That Makes You Go "Whoa"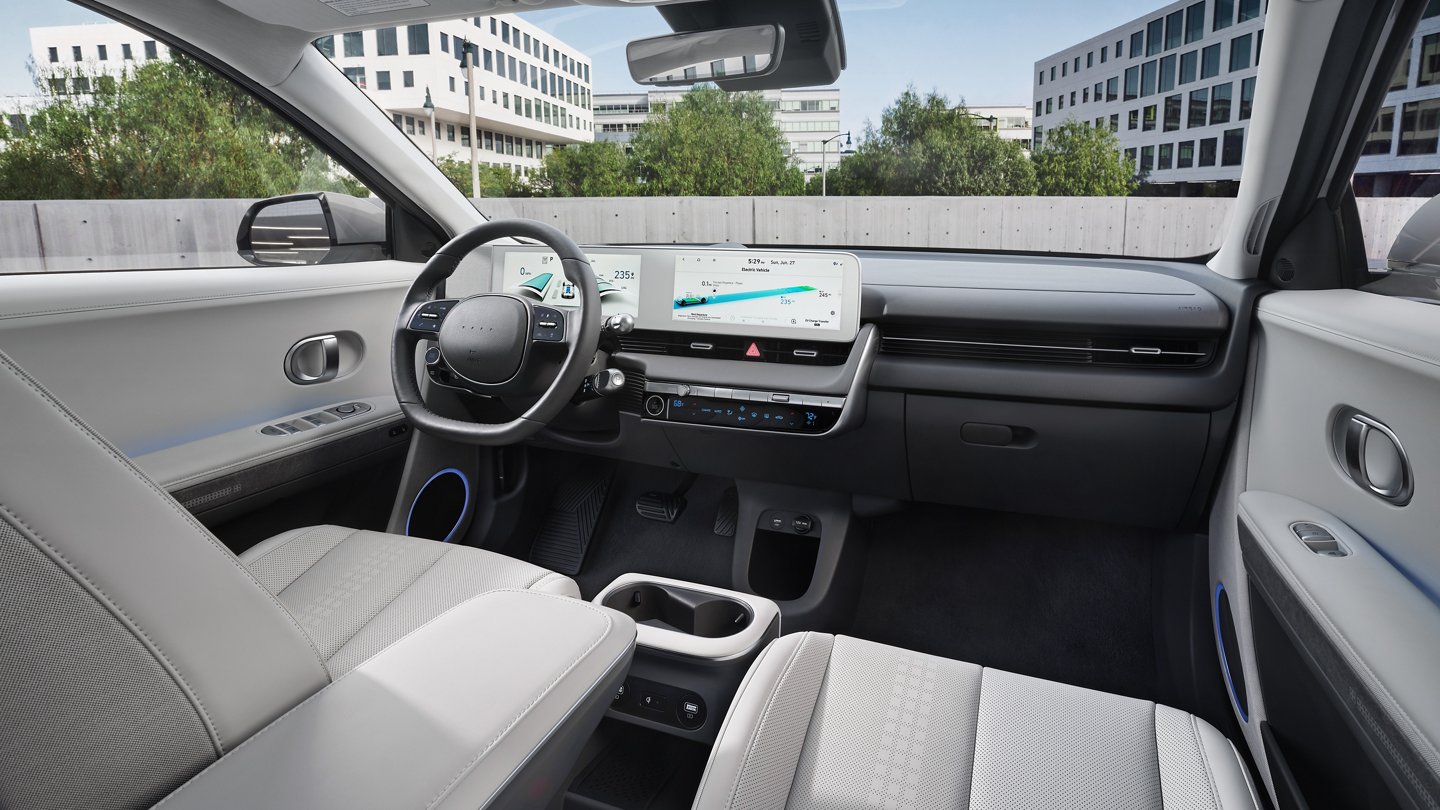 Every generation has their own cool automotive tech. (Just think, cruise control was a novel idea back in the 1960s.) Today's generation, however, is living the dream. With the IONIQ 5, you get a slew of never-before-seen technology.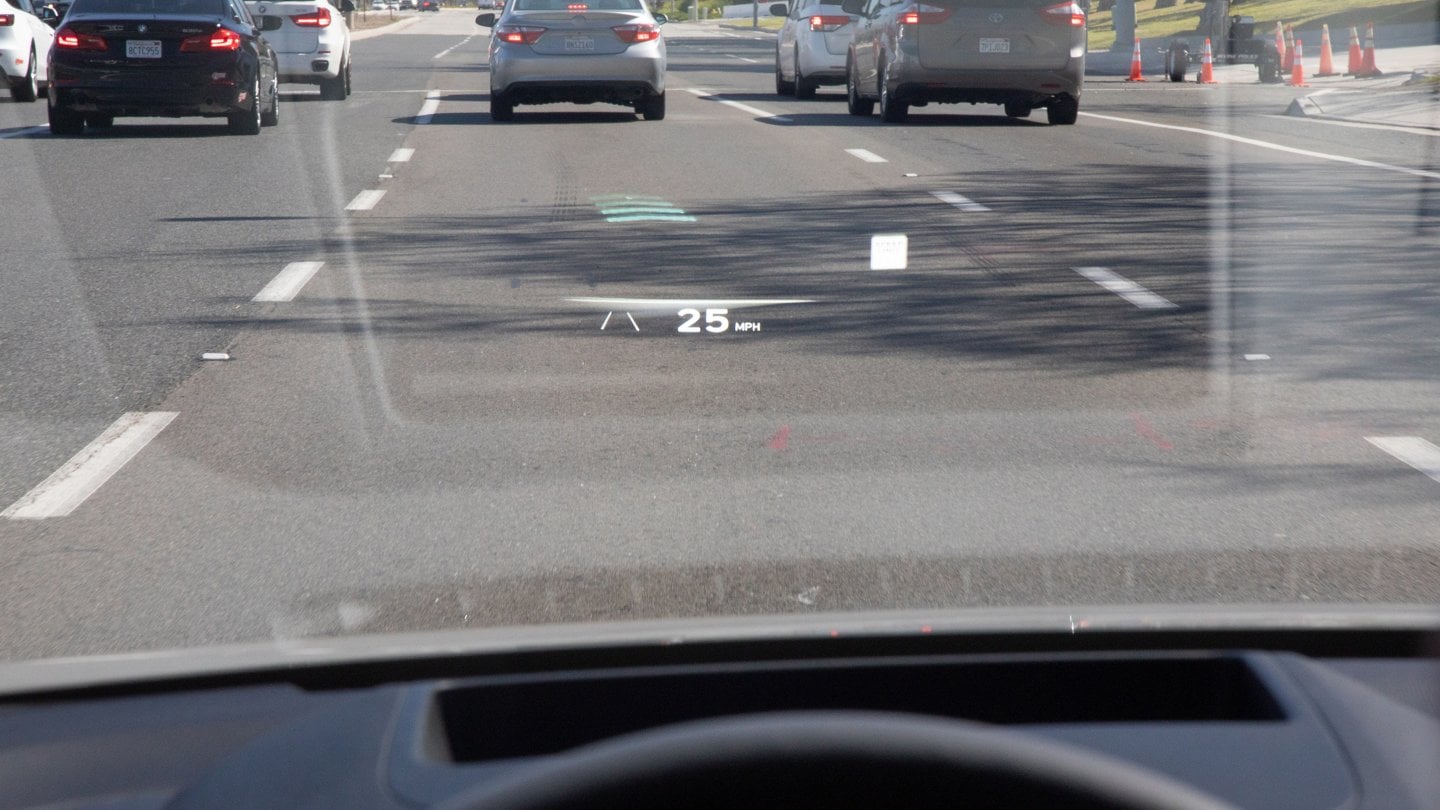 Take the available Premium Heads-up Display. It not only provides driving data and turn-by-turn directions, but it also features augmented reality, essentially turning your dashboard into a video game of sorts. Those directions move along with the road, showing you exactly where to go, virtually eliminating the risk of you
turning right into a lake
.
Speaking of cruise control, let us introduce you to Hyundai's Highway Drive Assist II. This feature automatically keeps a safe distance from the vehicle in front of you, adjusting speed or even braking as necessary to avoid a collision. On top of that adaptive cruise control, Highway Drive Assist II also keeps you centered in your lane or even changes lanes for you when you have your turn signals activated.
Hate parallel parking? Yuck. With the available Remote Smart Parking Assist feature, you can simply stand outside your IONIQ, hit a button on your smart key fob, and let the SUV do all the work. No more embarrassing yourself in front of everyone at Vice City Bean.
Of course, there are plenty of other features to love in the IONIQ 5. You'll have to visit a Hyundai dealer near you to find out more and experience them for yourself.
5. Over $15,000 in Savings
With gas prices fluctuating between "way too high" and "why has God forsaken me," it's a great time to reconsider your fossil fuel-powered mode of transportation. Over 5 years of IONIQ 5 ownership, the average driver could save nearly $9,000 in fuel compared to a Ford Escape, and also reap the benefits of the full $7,500 federal tax credit. (That doesn't even take into account all the money saved on routine oil changes – EVs don't need motor oil – and other maintenance.)
Wondering what your savings would look like if you made the switch to a new Hyundai IONIQ 5? Click here to calculate your cost of ownership based on annual mileage, electricity and gas prices, and comparative vehicle MPG.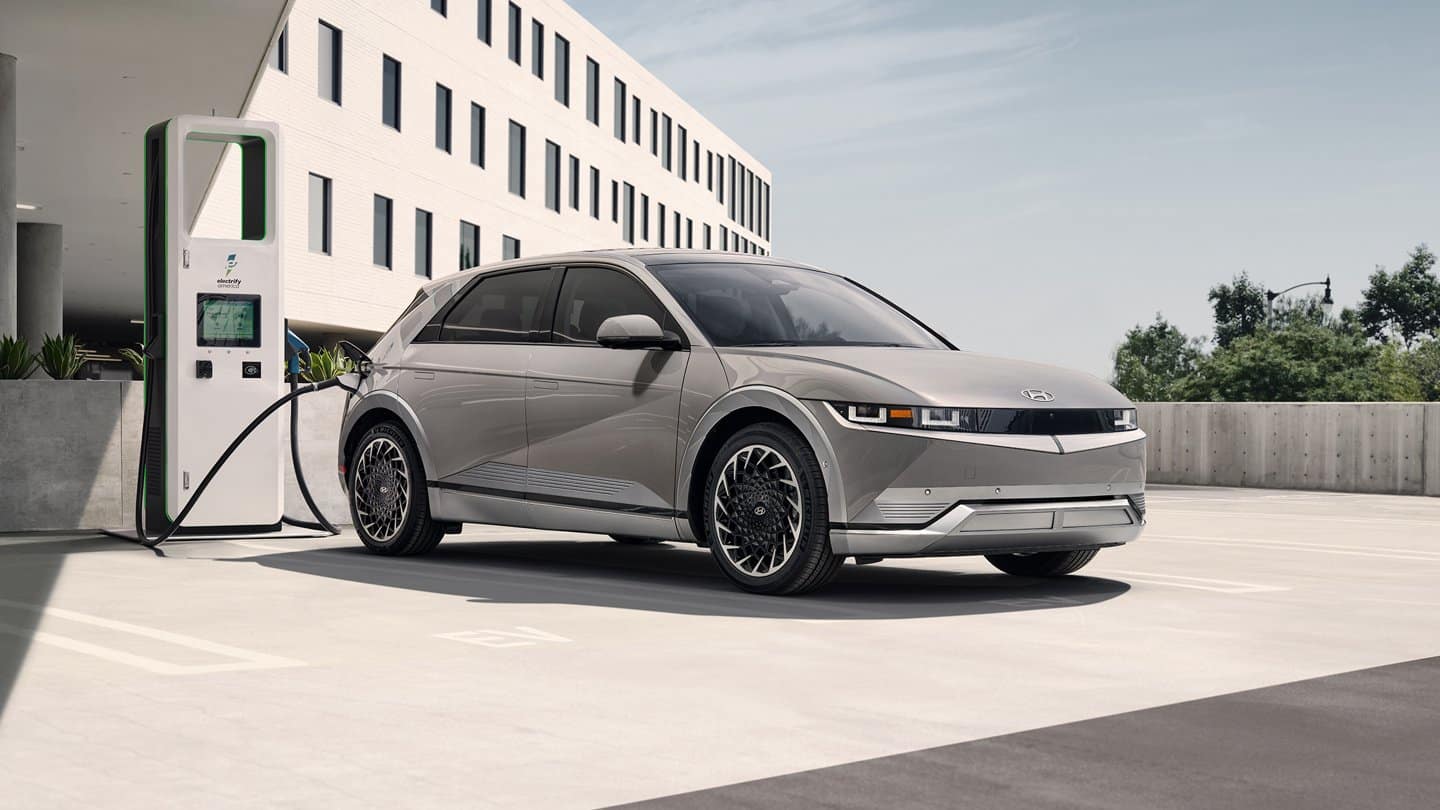 So, instead of asking if the IONIQ 5 is the best EV you can buy, perhaps the better question to ask yourself is, "Where should I buy a Hyundai IONIQ 5?" If you live in South Florida, the answer is Braman Hyundai. Contact our Miami Hyundai dealership at (786) 623-4261 or visit us at 2001 NE 2nd Ave to request more info and order an IONIQ 5.