Your lease contract may be packed with legal jargon, complex terms, and the fanciest five-dollar words that five dollars can buy; but for most people, returning a leased car is usually fairly simple. Treat the car well. Don't go over your mileage limit. Get an inspection. Drop it off. See? Easy.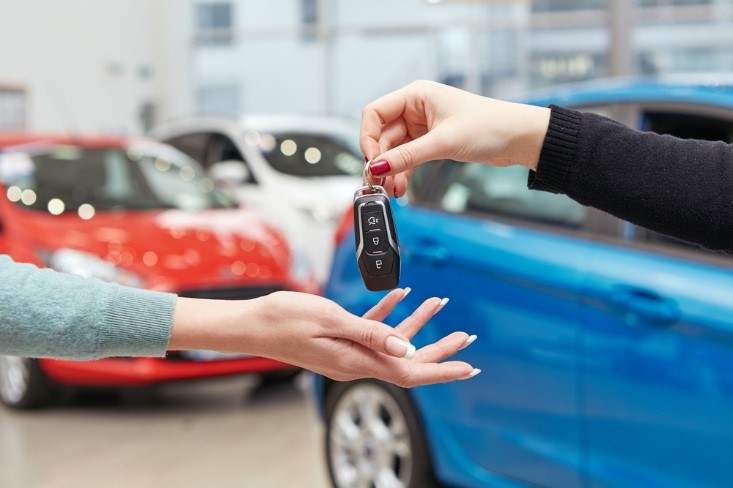 But we know you've still got questions – why else would you be here? – because, as a South Florida car dealer, we get asked about the Hyundai lease-end process nearly every day. Even those familiar with leasing a car come to us for answers, and we're always happy to dish out an assist. Here are some expert tips, nuggets of advice, and common best practices to follow when it comes time to hand in your leased vehicle.
Review & Understand Your Lease Contract
As your lease is set to end, it's a good idea to take a mental magnifying glass to your contract. You'll want to find details about the general lease-end policy, restrictions about using your leased vehicle as a ride-share, and the following terms:
Residual value (lease-end value)
This is the amount of money you'd pay to purchase your vehicle. The residual value is determined when you put your John Hancock on the lease contract; however, your residual value is not necessarily the true value of your vehicle. If you plan on buying your car, it's in your best interest to identify what it's really worth. Apps like our Value Your Trade tool should give you a pretty good idea.
Disposition fees
The disposition fee, also known as the turn-in fee, is the pre-set charge for you to return your vehicle. It includes action items for your dealer and lease company to recondition, appraise, repair and resell your vehicle. A typical disposition fee will range between $150 and $500.
Turn-in fees on Hyundai leases may be waived for loyal customers who choose to purchase or lease a new Hyundai vehicle within 60 days of your lease-return maturity date. Please contact our Hyundai dealership in South Florida if you'd like to discuss a disposition fee waiver prior to your turn-in.
Late charges
Returning your lease to a dealer is like returning a DVD to Blockbuster (RIP) – you'll get dinged a hefty late fee if you don't hand it in by your due date. If you contact your leasing company, they may be able to offer you a grace period, but you'll want to get that figured out as soon as possible.
Lease maturity date
The date on which your leased vehicle must be returned, to your dealer, to avoid late charges.
Mileage charges
Your lease agreement clearly states the per-mile charge on overages. Usually, this penalty will range from 15 cents to 30 cents per mile, though that's not set in stone.
Now, a typical car lease will restrict your yearly mileage to 10,000, 12,000, or 15,000, with 12,000 being the standard. Over the period of a 36-month lease, you'd then be limited to -- *furiously tapping at calculator* -- 36,000 miles.
If you return your lease with 37,614 miles, for instance, you'd be on the hook for the additional mileage fee of $250-500.
Termination fees
The fee required of you to "get out" of your lease contract before its maturity date. This is typically quite a hefty charge.
Excess wear charges
Excess wear and tear fees are what people dislike most about the lease-end process. Before handing in your vehicle lease, it's important to note and repair any cosmetic issues that could be considered excessive. Can you get away, scot-free, with that little coffee stain on your car seat? Probably. But don't expect a miracle if your car looks like it's been to Hell and back.
The most typical reasons you'd get dinged with an extra charge? Tires with poor tread, tears in upholstery, mismatched wheels, and large gouges on the exterior. It can often benefit you to have these items taken care of before you return your leased vehicle.
For more details about the Hyundai Lease-End process, you can review Hyundai Capital America's Lease-End Kit here.
8 Ways to Get the Best Value from a Lease Inspection
You have your lease maturity date and understand what constitutes "excess wear and tear," which means you're ready to get your lease inspection underway. Here are a few tidbits of wisdom that will help you take advantage of the free lease inspection provided by your auto leasing company.
1. 90 Days
About 60 days prior to your lease maturity date, your leasing company will send you a notice. It's important to give yourself enough time to repair any visible blemishes, dents, or stains before returning your leased car.
By having your vehicle inspected – did we mention this is a free service provided to you through your lease company? – at least 90 days prior to the lease-end date, you're able to work out the logistics and finances of getting body work and auto repairs performed or OEM car parts replaced.
2. Extend your Lease
If you're unable to take care of repairs prior to your lease turn-in, you can ask your leasing company for an extension.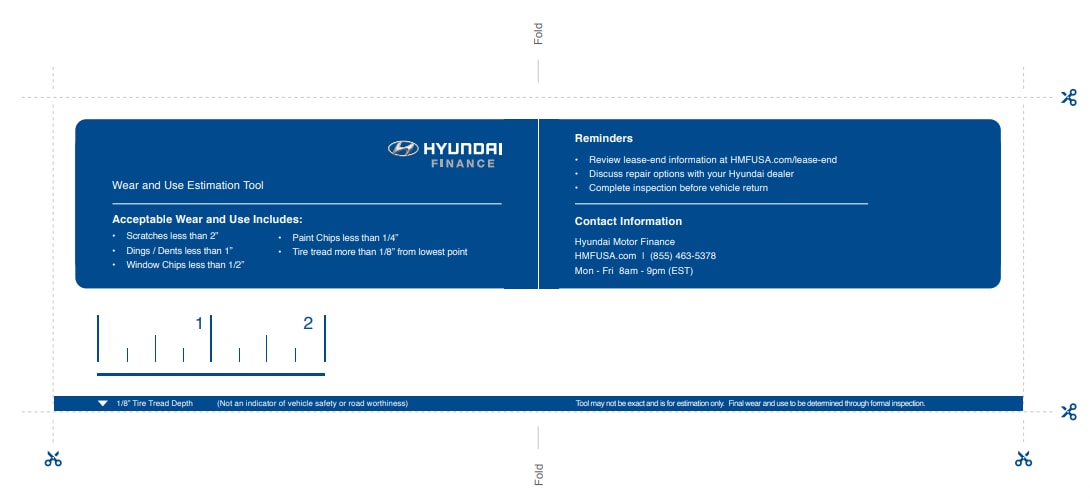 Photo: hmfusa.com
3. Use Hyundai's "Wear and Use Estimation Tool"
To assist in evaluating your liability for excess wear, inspect your vehicle using the Hyundai "Wear and Use" tool above (print it here, and make sure to print at 100% size). Or simply grab a ruler and follow this guideline, which identifies what type of damage is considered acceptable:
Scratches - less than 2 inches

Dings and dents - less than 1 inch

Window chips - less than 1/2-inch

Paint chips - less than 1/4-inch

Tire tread – more than 1/8-inch
4. Take Photos (x2)
Before your lease inspection, take photos of the vehicle and any noticeably damaged areas.
Before your lease turn-in, take photos of the vehicle and any noticeably damaged areas.
If you get charged for additional damages after a clean inspection report, you can dispute the fees by providing photo evidence.
5. Schedule at Home
You can have your vehicle inspected on the fly at your dealership – a lease manager from our Miami Hyundai dealership will gladly perform your lease-return inspection prior to its maturity date – but it's in your best interest to have an inspector appraise it at home or your work. (This is a free service, by the way.)
6. Clean the Car
Before your inspection, remove your personal belongings from the car, run it through the wash, and have it detailed if it's particularly filthy inside. If your car looks fresh, the inspector might think twice about dinging you for a 2.01-inch scratch.
7. Remove Bumper Stickers & Aftermarket Accessories
You must return your vehicle in the same condition in which it was leased. That means peeling off bumper stickers and decals, removing Mary Kay eyelashes from your headlights, and replacing those wicked-cool rims with stock wheels. If you don't, the inspector will note that on your report.
8. When in Doubt, Ask
Don't be shy; if you're worried about a scratch or window chip, ask your inspector if your concern is warranted. They'll be able to tell you what should be repaired or replaced to avoid damage charges.
Should You Re-Lease or Buy Your Hyundai?
At Braman Hyundai, we always want to see our customers drive away happy. Whether you decide to lease another Hyundai, purchase your current lease, or buy a certified used Hyundai, we're here to walk you through the process. Once you turn in your lease, we'll discuss all the options available to you, based on your budget. And with our monthly Hyundai lease specials in Miami, you're guaranteed to find a new SUV or car that'll work for you.
Contact our Miami Hyundai lease center at (786) 623-4261 to schedule your return and set up a test drive in another leasable Hyundai, like the all-new Hyundai Elantra or world-class Tucson. Our Miami dealership is located at 2001 NE 2nd Ave, near Biscayne Park.
Sources:
https://www.hmfusa.com/Data/Teamsite/HCA/HMF/img/lease-end/HMF_leaseend_kit.pdf