We love Hyundai. You love Hyundai. To celebrate a new year (finally!), we wanted to share that love by introducing some upcoming Hyundai 2022 models, news and technology. From a first-ever Hyundai truck to a larger selection of electric vehicles, 2021 will bring a whole lot more to adore under the Hyundai brand name. So, let's dive right in.
All-New 2022 Hyundai Santa Cruz Truck
Hyundai's bread and butter has been sedans and SUVs – now it's bringing some more butter to the table with its all-new Santa Cruz pickup truck, Hyundai's first vehicle with a pickup bed. Previewed as a concept vehicle in 2015, the Santa Cruz is definitely still slated for a release sometime in 2021, and it will share the same underpinnings as the upcoming 2022 Tucson. However, a Tucson the Santa Cruz is not, as you can clearly see: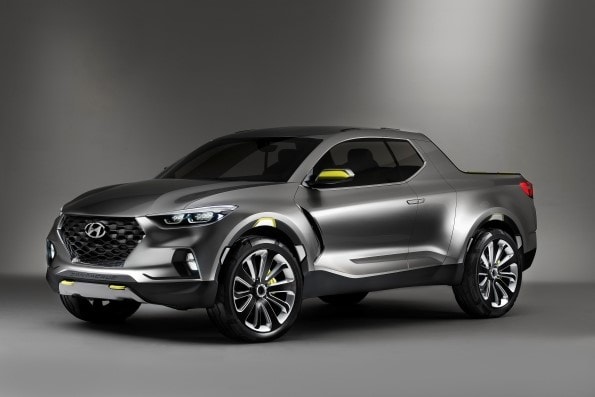 Details are still scant, but here's what we know about the new Hyundai Santa Cruz, which should arrive at our South Florida Hyundai dealership soon-ish.
Truck-Inspired Sports Utility Vehicle
Towing? Nah. Payload? A bit. Ground clearance? More than your average bear. What the Santa Cruz is really shooting for is a mix between SUV versatility and truck capability, much like its rival the Honda Ridgeline does (but Santa Cruz will do it better). What you get is a spacious, tech-driven interior (SUV-like) that's fit for families, plus a convenient pickup bed (truck-like) that makes your weekend landscape or deck-repair job a piece of cake.
Powertrain that's Power Trained
Of course, being based on the 2022 Hyundai Tucson, the Hyundai Santa Cruz is likely to share the same under-the-hood trappings, including a 2.5L Smartstream™ 4-cylinder and turbo-4 option. The cat is still squarely in the bag, but we wouldn't be surprised if the Santa Cruz was released as one of the very first American hybrid trucks – if it shares the same platform and innerworkings as the Tucson, that is. This is also very plausible if the rumors are true – that Hyundai electric vehicles will increase to 10 by 2022 –and Hyundai Santa Cruz is lighter, smaller and more compact than other small trucks, like the Ridgeline, Chevy Colorado and Nissan Frontier.
Release Date TBD
When can you get your hands on the new Hyundai Santa Cruz? Becoming the first on your block to own the first Hyundai truck is a feat that can be achieved sometime in 2021, after the 2022 Tucson is released. Contact our Miami Hyundai dealership at (786) 623-6062 to stay up to date.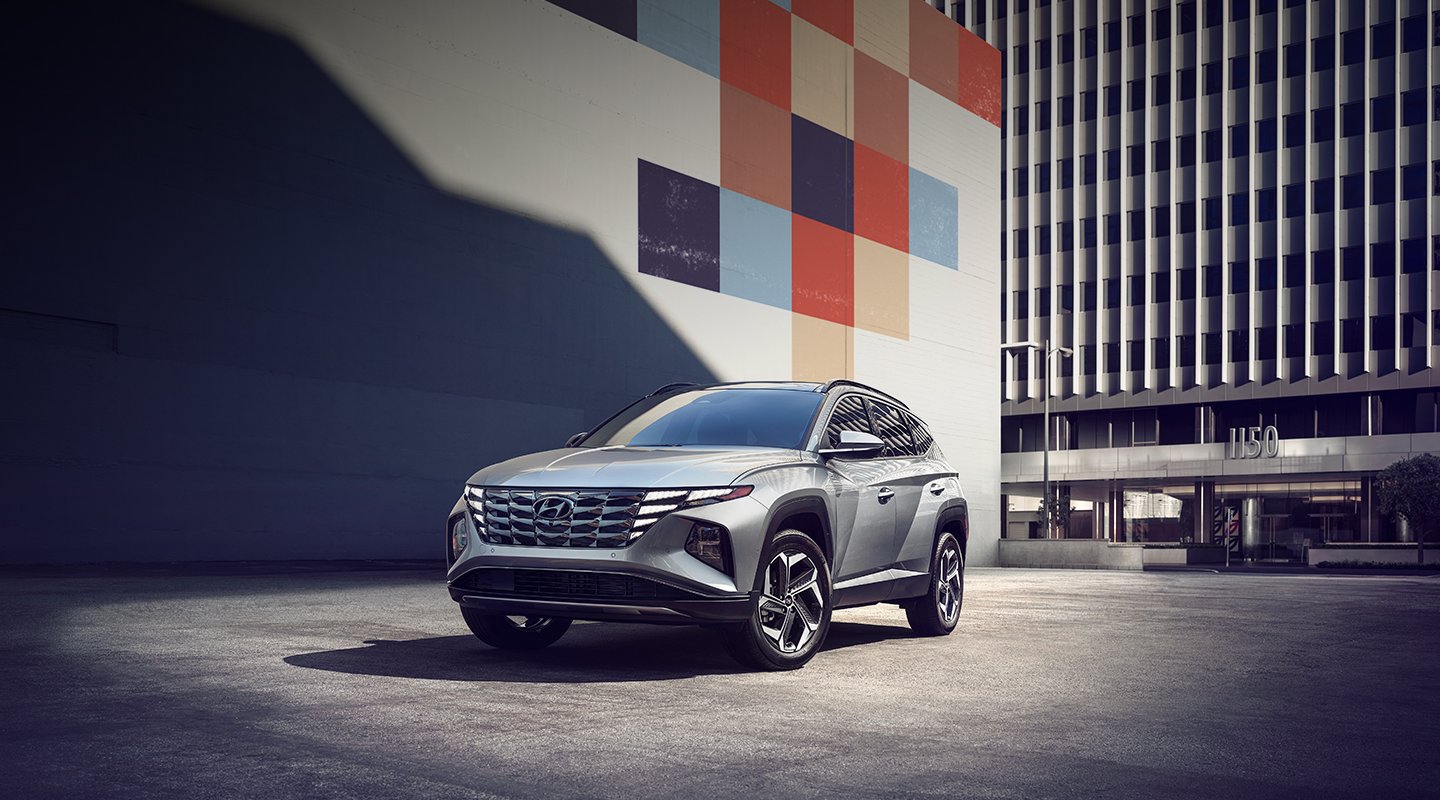 Redesigned 2022 Hyundai Tucson
When Hyundai pushes all-in, they really go hard. Just take the upcoming 2022 Tucson as an example. Entering into its fourth generation, the new Tucson attracts even more gazes than the 2021 Tucson, thanks to its cutting-edge design, segment-best technology, and some superior specs across the board. View the 2022 Tucson intro video here.
Inside & Out
First, it's based on Hyundai's "Sensuous Sportiness" design identity – that means Tucson's got loads of kinetic jewel surfaces, half-mirror daytime running lights, detailed accents from bow to stern, and an emphasized tail end to differentiate itself from other crossovers in its segment.
Under the hood is a Smartstream™ 2.5L direct-four that makes 190 horsepower and 182 lb-ft of torque. In our best Borat impression, "it's a-very niiice." That's especially true when considering the Tucson's newest HTRAC all-wheel-drive modes: Mud, Sand and Snow, which join Eco, Comfort, Smart, and Smart.
Inside – Hyundai tubbed Tucson's cabin as 'INTERSPACE' – Hyundai's compact SUV embraces much of the same, offering accents of silver, black and gray tones throughout. Second-row seats are the fold-and-go type, allowing you to reconfigure the cabin and gain access to its 38.7-cubic-foot cargo area in a matter of seconds. Its dashboard is more refined, yet there's still a sportiness at play thanks to fully integrated central array that slopes down, into the console. That dashboard comes with the model's three newest pieces of Tucson technology:
1. Dual 10.25-inch full-touch screen setup, vertically stacked for optimal ease of use
2. Multi-air ventilation system
3. Hoodless digital gauge and instrumentation cluster
Of course, that's not all, as Hyundai vehemently claims that Tucson delivers best-in-class digital experiences, including connectivity. Hyundai Digital Key (ask your Braman Hyundai salesperson for details) with NFC is available across most 2022 Tucson trims. That full-touch display seamlessly integrates apps, improved voice control, navigation and climate settings in one intuitive interface. Heck, you can even check your schedule from the touchscreen. Perhaps our favorite feature is Tucson's all-new Car-to-Home system, which allows customers to control their smart home devices, lights, and appliances from their vehicle. Oh, Wireless Apple CarPlay® and Wireless Android Auto™ are also available, and you can connect up to two phones at the same time. This is the future!
Fresh. Exciting. Sophisticated. Ambience is adjustable, too, as Tucson's 64-color mood lighting can be set at any one of ten brightness levels. That's just what your doctor ordered.
Hybrid & Plug-Ins
Above all else, the all-new Tucson makes its case for "best new SUV in America" thanks to two new variants in its Hybrid and Plug-In Hybrid models.
With the 2022 Tucson Hybrid, your heel attaches to a 1.6L turbo, which produces 230 horsepower and 258 lb-ft of torque when working in tandem with the electric motor. Its use of Continuously Variable Valve Duration tech optimizes power and efficiency, enabling you to get class-topping EPA-estimated MPGs in the neighborhood of 37 combined. (Tucson PHEV shares the same electric set-up, minus the gas engine and fuel-economy returns, of course.) More details to come when the Tucson reaches out Miami Hyundai dealership this Spring.
Safety
For 2022. Hyundai upped its game by offering the Tucson with more safety features than ever before. Hyundai SmartSense is standard – features like High Beam Assist, Highway Driving Assist, Remote Smart Parking Assist and more are included – and the all-new Tucson also adds available Blind-Spot Collision Avoidance Assist, Rear Cross-Traffic Collision Avoidance Assist, Advanced Smart Cruise Control with Stop and Go, and Safe Exit Warning.
Featuring class-leading classiness, plus a slew of all-new features, tech and safety systems, the Hyundai Tucson is sure to be one of the best new SUVs of the year. (And yes, the 2022 Tucson, like its 2021 version, will be a whole lot better than rivals like the Nissan Rogue.) Consider those boundaries pushed.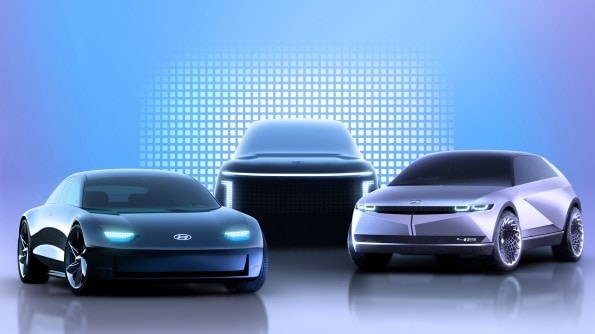 2022 Hyundai IONIQ
It's been a hot minute since we heard about IONIQ. But in the past months, it was announced that a new Hyundai IONIQ project is off the ground, and in the next few years we'll see the launch of 3 all-new electric vehicles with ultra-fast-charging capabilities and longer mile ranges: IONIQ 5, 6 and 7.
Everything starts with the IONIQ 5. Classified as a midsize electric crossover (CUV), the IONIQ 5 features Hyundai's Electric Global Modular Platform (or E-GMP, not to be confused with E-Gimp, which is a whole other thing entirely). This new system enables much faster charging rates and more mileage. IONIQ 5 will also offer ergonomic adjustable seats, glove box drawers, and wireless connectivity. All other details about the IONIQ 5, and its 6 and 7 models, is mum. But when those details emerge, you can bet Braman Hyundai will let you know.
New IONIQ Hyundai EVs will see the public highways and byways starting in 2021 (IONIQ 5), with subsequent releases of the IONIQ 6 and IONIQ 7 models in 2022 and 2024, respectively.
Other 2022 Hyundai Rumors
What else does Hyundai have coming through the pipeline? Based on water cooler chatter, the gossip goes as follows:
· 2022 Hyundai Kona gets a facelift plus an all-new N-Line model, and Kona Electric models will become more widely available.
· 2022 Hyundai Elantra gains a Hybrid trim.
· 2022 Hyundai Santa Fe gains Hybrid and Plug-in Hybrid trims.
· Genesis, Hyundai's sister co., will see a 2022 GV70 join their ranks. (Visit Braman Genesis in Miami for more details.)
· Rear Occupant Alert will become standard on all Hyundai vehicles by the end of 2022.
Contact Braman Hyundai for Updates
Whether you're intrigued by the Santa Cruz (we are!), ready for a hybrid Tucson, or want to learn more about Hyundai's new electric vehicles in Miami, we'd be happy to chat. Contact Braman Hyundai at (786) 623-6062 to speak with a member of our sales team or get more info about our current crop of new Hyundais for sale in Miami. When any of these upcoming Hyundai vehicles go live, you'll be amongst the first to know. Happy shopping!