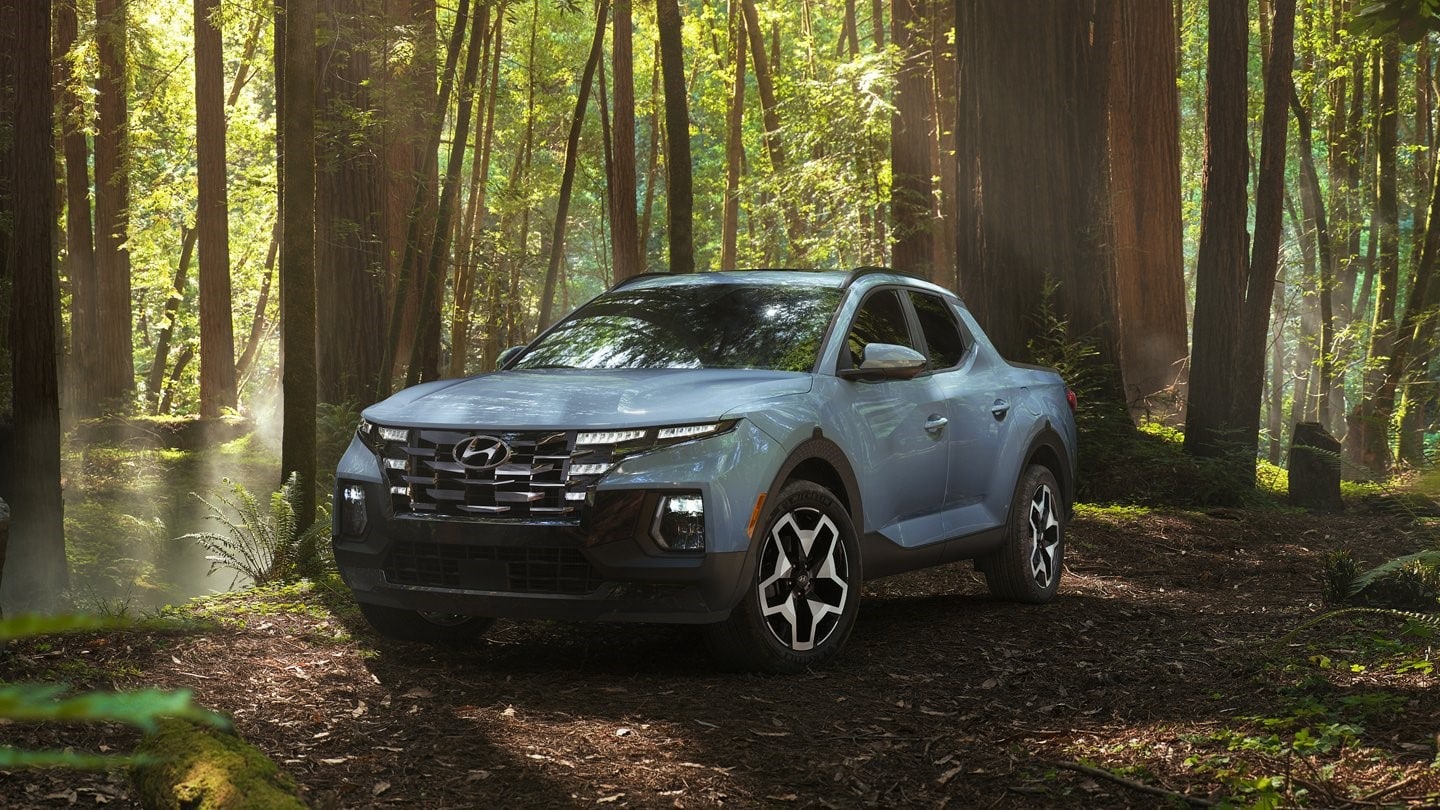 "Gutsy outside. Glam inside."
That's how Hyundai's branding its
2022 Santa Cruz
, the company's all-new, first-ever "Sport Adventure Vehicle" (aka. truck). But we like our own slogan: "Business in front. Party in back."
The new Santa Cruz is the mullet of the automotive world, and that's not an insult. Quite the contrary, in fact, as mullets are kind of awesome.
Angled at the front grille, Santa Cruz looks like your traditional SUV – useful and pragmatic. Take a little stroll to the side and you'll quickly discover that this seemingly all-business SUV has really let its hair out. It combines everything you love about SUVs – the technology, the ease of use, the family-friendliness – with everything you need from a pickup truck – the bed, mainly – to produce this: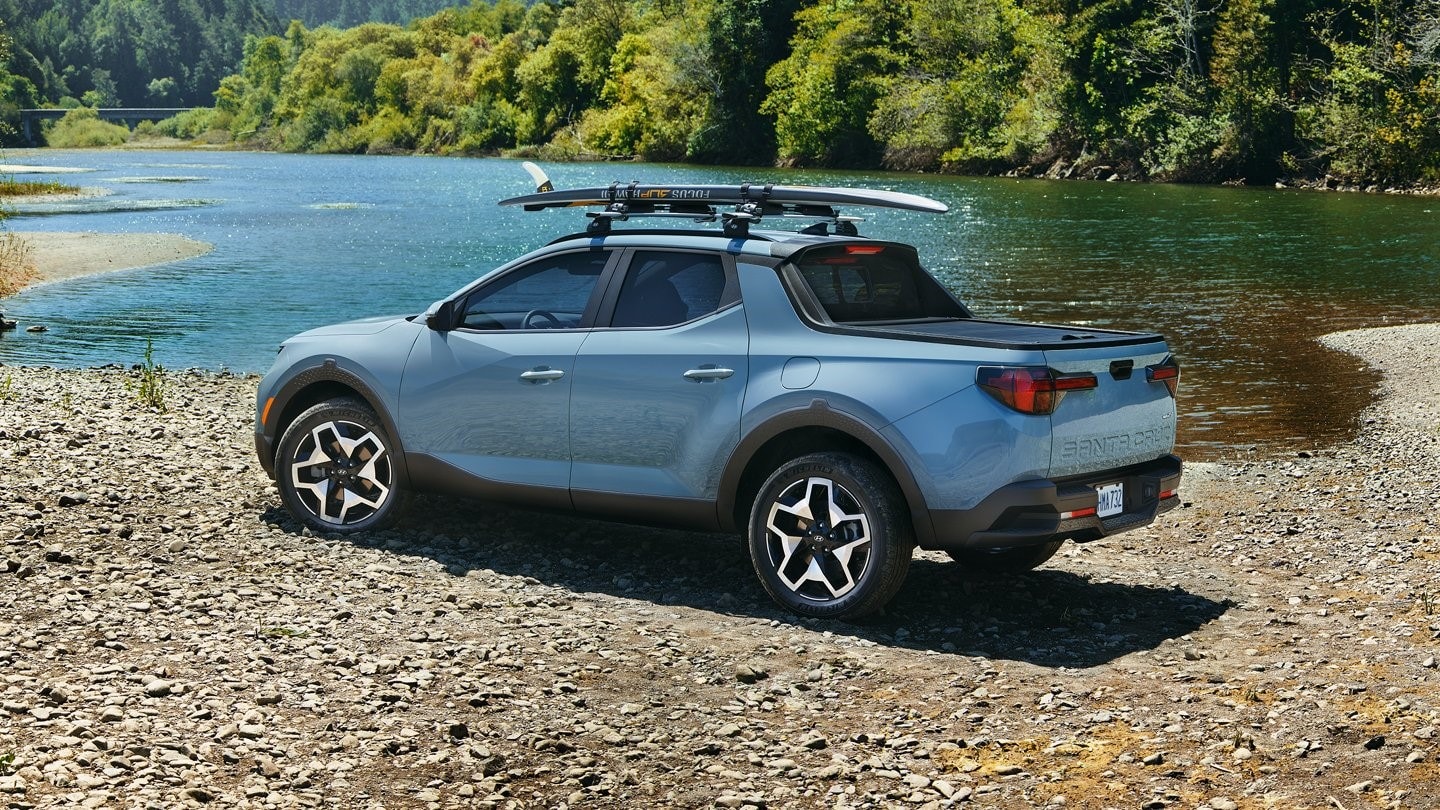 And this: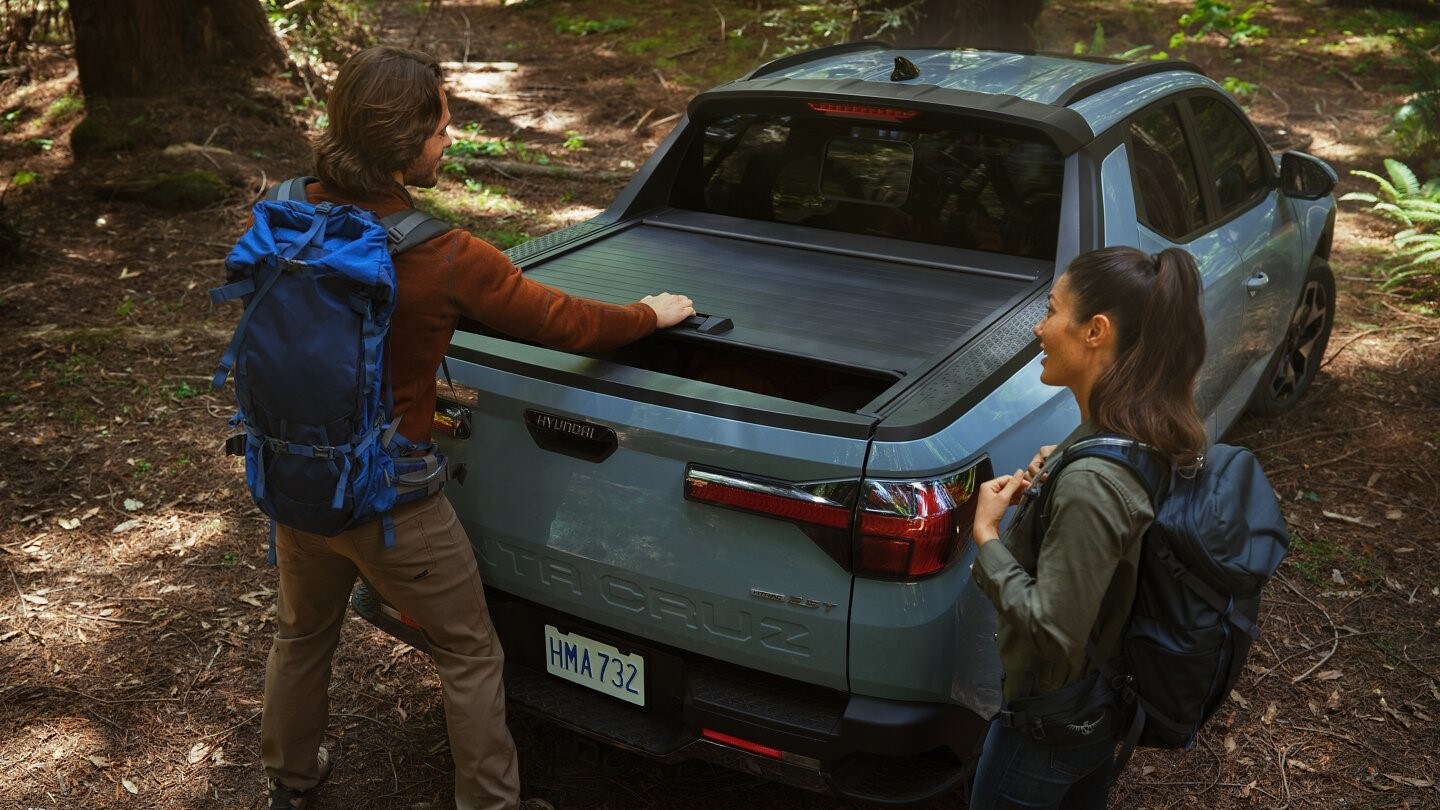 And this: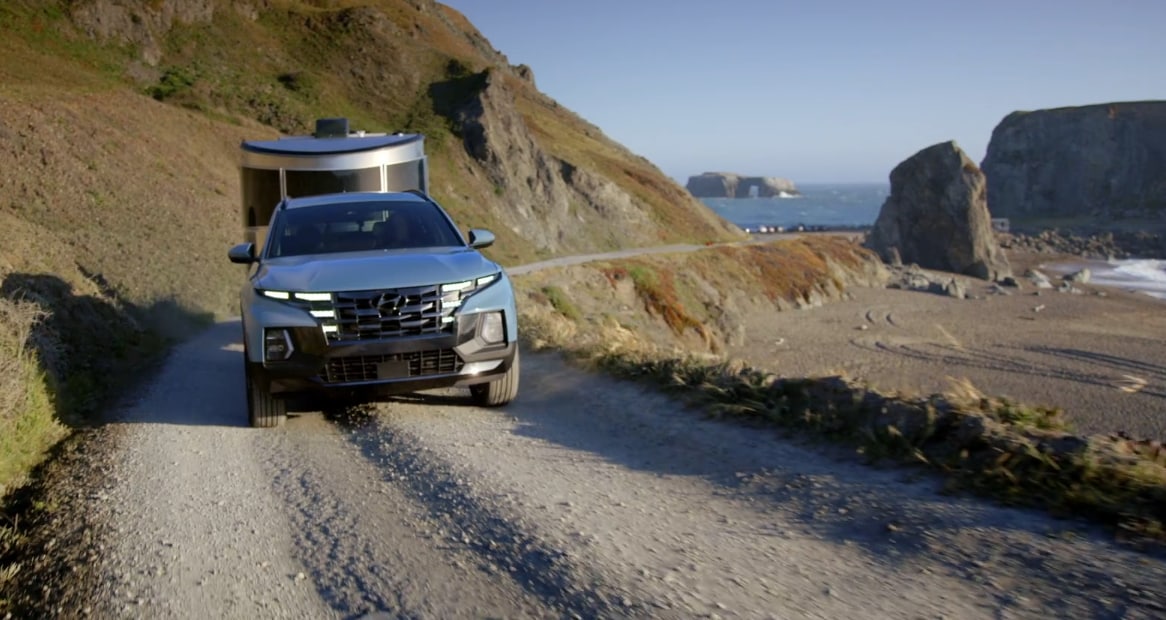 And this: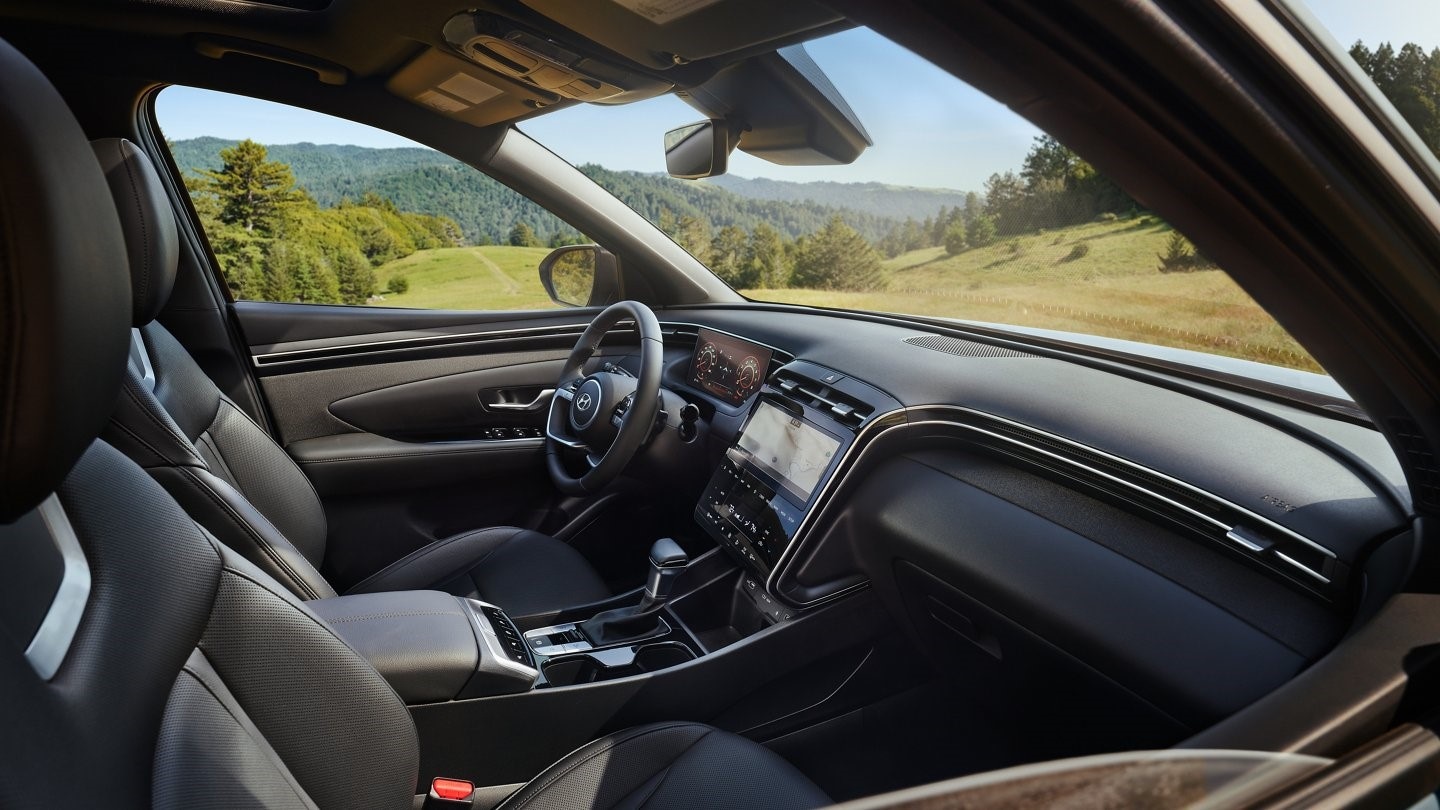 You get the idea. The fact of the matter is, with both pickup and SUV DNA, the new Hyundai Santa Cruz puts you in touch with your adventurous side while also enabling you to take care of your parental responsibilities.
"Occupying the bizarre territory between pickup and SUV, the Santa Cruz is unlike anything else you can buy today... In a league all on its own, the Santa Cruz is a gloriously funky answer to the bulky trucks and faceless crossovers that dominate US roads." - Business Insider
Ready to learn more about the Santa Cruz? Either visit our Hyundai dealership in Miami or read about some of our favorite Santa Cruz features below (then visit Braman Hyundai for an in-person look).
Convenient Open Bed
Durable as H-E-double-hockey-sticks, Santa Cruz's open bed is designed to provide convenience in all forms, as we discussed in our
Santa Cruz vs. Ridgeline comparison
.
It features side storage for spare bungee cords and other knick-knacks. Its sealed underfloor bin, complete with a drain plug, is ideal for all your tailgating and camping expeditions. You even have access to a power outlet for off-the-grid zaps of Benjamin Franklin's favorite natural phenomenon (electricity, of course). To top it off in the most literal sense, the Santa Cruz bed also includes a lockable tonneau cover.
"The Santa Cruz is fun to drive in ways you wouldn't expect a pickup truck to be... Sprinkle in the fact that it's got the cool in-bed trunk and a premium interior and this is a really unique vehicle that has captured our attention." - Edmunds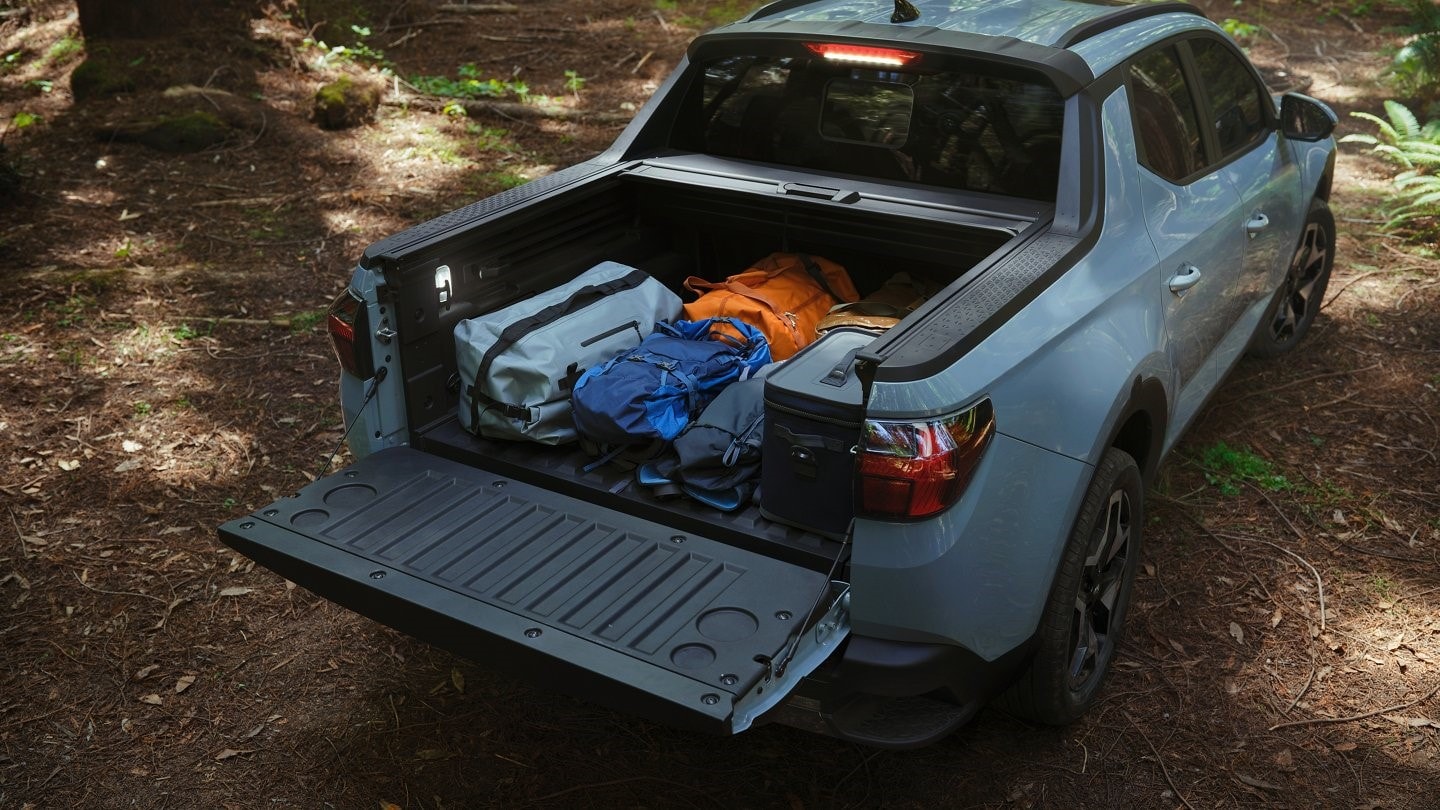 While the 2022 Santa Cruz truck doesn't specifically cater to the DIY home improvement novice, it does an admirable job hiding that fact. Its tailgate height can be adjusted on the fly, allowing it to carry multiple 4x8 pieces of lumber or four 29-inch bikes – not at the same time, of course (unless you want to be featured in the "tragedy" segment of the nightly news).
SUV-Like Drivability
Apart from its truck bed, the 2022 Santa Cruz is all crossover. This is especially true when you're assessing its merits from the driver's seat. Comfortable and quiet, the Santa Cruz drives like a mid-size SUV. It never misbehaves around turns. Its steering is precise and responsive, even with a 5,000 load in tow. It's as stable and smooth on the pavement as it is on dirt or gravel.
"When it comes to the ride, this is where if you aren't a super huge truck person but have always yearned for the utility of a truck bed, you're going to be very pleased." - KBB
Unlike your typical pickup truck, the new Hyundai Santa Cruz doesn't feel overly big and cumbersome, is what we're saying. It takes to the streets of downtown Miami with aplomb, never once making you feel like you're too out of your element amongst all the sedans and compact SUVs. It's the best truck you can buy, while also being the best SUV you can buy – what an anomaly.
An Interior Built for Families
Inside, Santa Cruz's SUV genetics is clear. It comfortably – and we mean
comfortably –
seats up to 5, or 4
with a doggy companion
. (Your pup will love the sliding rear window,
a la
pickups of decades past.)
Available heated leather seats, heated steering wheel, and an expansive moonroof put this well into the "too lavish for a non-luxury SUV" category, though you'll be surprised to find that the starting price point for these features is below $40,000.
"Inside, the Santa Cruz has one of the nicest cabins among mid-size pickups. Hyundai has made a habit of building vehicles with attractive materials and desirable modern features that would look right in costlier vehicles." - Car and Driver
It's the first vehicle in its "trucklet" class to come with a fully digital instrument cluster (10.25" setup), though that's hardly a selling point. What will get you excited to buy or lease a Santa Cruz?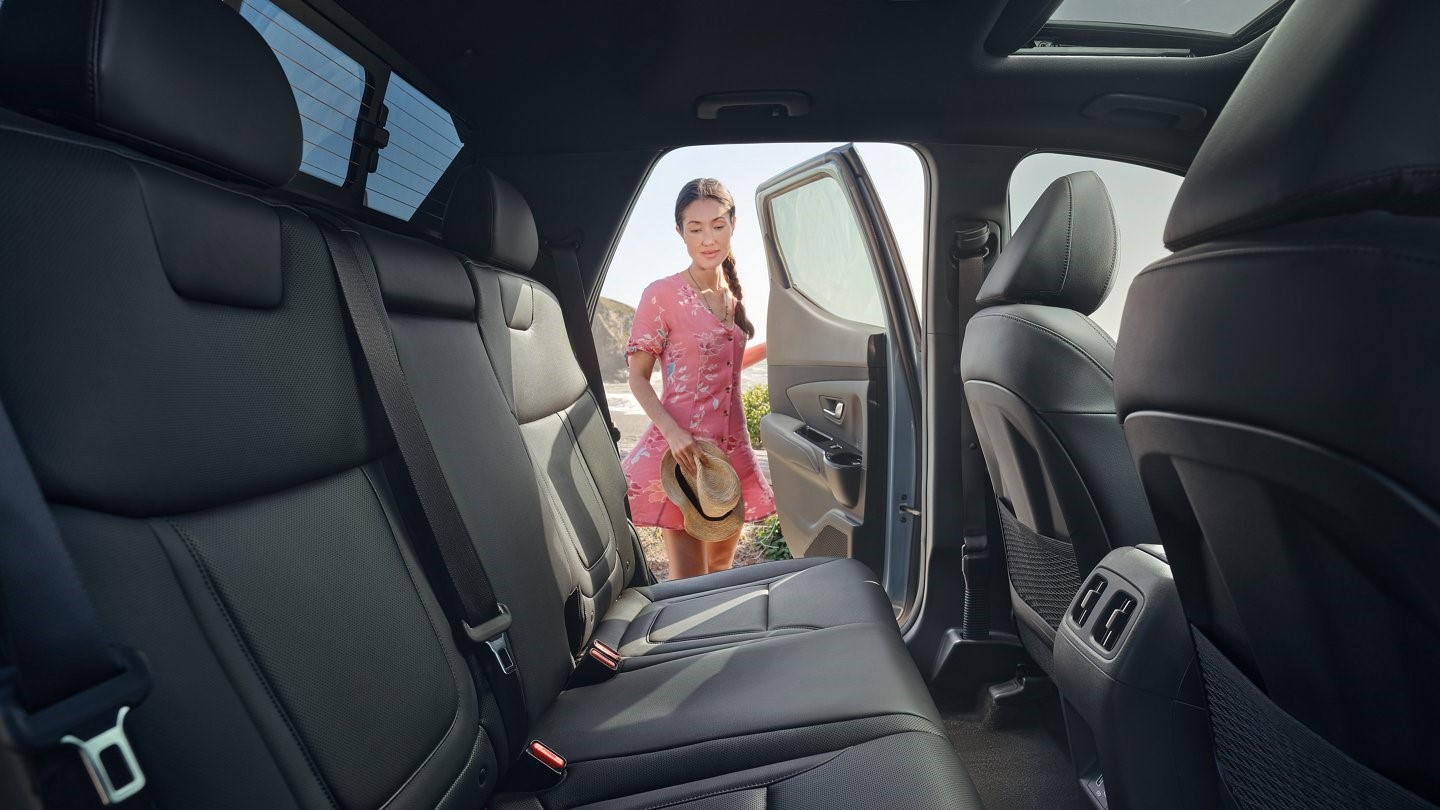 How about its available 10.25-inch touchscreen or pair of rear-seat USB charging ports? What about Hyundai Digital Key, the tech that enables you to lock doors and start your Santa Cruz with a smartphone? Maybe the standard inclusion of Wireless Apple CarPlay, Wireless Android Auto, and safety tech like Driver Attention Warning and Rear Occupant Alert will get your blood pumping? Perhaps its IIHS Top Safety Pick will push you over the edge and over to our Hyundai dealership near Hialeah?
There's a whole lot more to love about the new Hyundai truck. Come find out what you're missing. Visit Braman Hyundai at 2001 NW 2nd Ave in Miami, FL, to see the Santa Cruz in action. Call us at (786) 623-4261 to book an appointment or get a price quote on what will be the best little truck you'll ever buy.
Braman Hyundai serves all of South Florida, including Hialeah, Miami, Aventura, Coral Gables, Fort Lauderdale, Hollywood, and the surrounding areas.